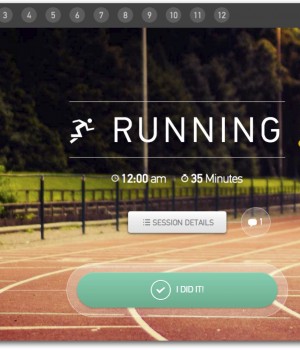 Do you have a piece of exercise equipment that you saw on an infomercial?
It all looked so easy on television, didn't it?
The very fit people using it to work out were happy and smiling.
How could you not want to be like that?
And, that amazing piece of equipment had a brilliant feature. It folded away for easy storage.
I'd hazard a guess that most exercise equipment bought from infomercials end up folded away. Forever. Taking with them the person's motivation to exercise and, often exacerbating their guilt over not exercising.
When asked why they are not regularly exercising, most people cite time, or lack there of, as the reason.
Enter Sessions
In 2011 Nick Crocker gave a compelling TEDx presentation in Darwin (watch it at the end of this article). He explained the obesity epidemic. Then, he explained his fear of dentists.
There was a connection between the two. One of his dentists told him that if he wanted to avoid dental treatment there really was only one thing to do. The dentist gave his sage piece of advice: Floss the teeth you want to keep.
Crocker didn't floss. But, he didn't want to lose his teeth. He set about changing his own behaviour to become a regular flosser.
From here Crocker, along with university mate Ben Hartney crystalised an idea they had. They began with an idea to find more people to join them in their regular basketball games – people who wanted to play regularly. But, they found they needed to motivate the players to regularly turn up.
From basketball to San Francisco
Crocker and Hartney relocated to San Francisco for the first six months of the business, leaving their partners behind in Australia. "That was really tough," admitted Crocker.
The pair was given a place at Rock Health – an accelerator dedicated to health startups and backed by United Healthcare, Kleiner Perkins and Harvard Medical School.
Sessions, an online behavioural change management program that helps people become active and, remain active, is the result.
The program developed by Crocker and Hartney launched publically last month after being invitation only for the last year.
The accelerator pay off
Via Rock Health, Sessions has built solid relationships with other major health startups including Agile Diagnosis, Care At Hand and Sano Intelligence. Plus, the company has been introduced to Nike, Kaiser Permanente, Genentech and the Clinton Foundation.
Funding has also been raised from Collaborative Fund, SV Angel and Twilio Fund has been secured to grow its team of engineers and designers and build out its network of health coaches.
"It's less than a million," explained Crocker.
But, most impressively, the Sessions program is currently being validated through a randomized clinical trial at the world-famous Mayo Clinic, one of the most prestigious and well-funding hospitals in the U.S.
No stranger to startups
This isn't Crocker's first rodeo, so to speak.
He was one of the founding members of We Are Hunted – the music startup that began in Brisbane and was recently bought by Twitter for an undisclosed sum.
But, this one is a different – it's taking on the likes of Weight Watchers and Jenny Craig.
What Sessions is and, what it isn't
Sessions isn't an online personal trainer service. At its heart is a 12-week program designed to fundamentally change behaviour.
"Every one of our customers has a different interpretation of success," explained Crocker. "One family used Sessions to do their first 5km fun run. Another has gone from being inactive to doing Crossfit. One has lost 40kg. Everyone is different but changing behaviour is the key."
Programs range in price from $69 a month, through to $399 a month for a high-touch relationship. And, let's face it – some of the fitness gear from infomercials that now resides under spare beds everywhere cost more than that!
What does success look like?
Like most startups that have just kicked off their public launch, Sessions is firmly focused on growth.
"Success for Sessions is really easy to measure: It's the number of people positively affected by their experience in our program. From that perspective, Sessions has already been a success for me already," explained Crocker. "We have hundreds of paying customers. The challenge is to see how high we can push that number."
Since launching to the public in April, Sessions has been approached with other opportunities that will help with achieving that growth.
"We've had some inspiring new members joining the program and, we've been most excited by the opportunities that have emerged with health insurers, wellness providers and academics," continued Crocker.
Where to from here?
"If you can fundamentally change someone's behaviour, and you multiply the impact of that change by a lifetime, the net result is profound, lasting change," said Crocker.
Personal change can begin with something small, like regularly flossing your teeth. Or, it can be deciding to run your first marathon.
As our sedentary lifestyles are slowing killing us, Sessions and behavioural change has the potential to play a big role in much needed societal change.
TEDxDarwin – Nick Crocker – Floss the teeth you want to keep