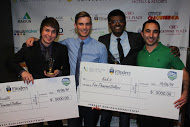 In June, the finalists for The Big Pitch by Oxygen Ventures pitched their businesses to the panel of judges.
WeTeachMe and ECAL tied as winners, sharing the $5 million in prizes.
So, how did these winners and finalists pitch? What did they say? What were their pitch decks?
Well, wonder no more.
Here are the winning pitches and, the other finalists. Each pitch is around 15 minutes. But, you'll see what the judges saw and, pick up more than a few tips about pitching.
Winner: WeTeachMe Pitch
[videoframe][/videoframe]
Winner: ECAL
[videoframe][/videoframe]
Finalist: etaskr
[videoframe][/videoframe]
Finalist: Black Delta
[videoframe][/videoframe]
Finalist: BlueSky
[videoframe][/videoframe]