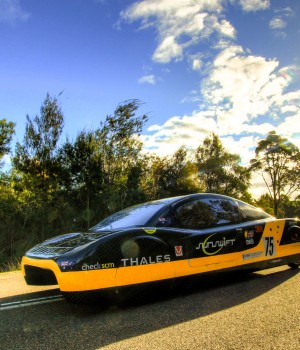 Sunswift, a team of about 50 university students at the University of New South Wales (UNSW), build and race solar cars.
The eVe is the fifth car they have designed and built over their 20 year history and they are determined to make it the first road legal solar-powered sports car in Australia as early as March 2015. It is one of the world's first passenger solar sports cars.
This solar-powered beast recently broke a world speed record for the fastest long-range electric car, averaging 107km/hr for the 500km distance, smashing the previous record that had been set a whole 26 years before.
How does the eVe work?
With the solar panels on the roof, the eVe never needs refuelling unlike your conventional car. It charges very effectively, five hours charging on a sunny day give 160 km of range!
Furthermore, even when the sun sets, its high-efficiency lithium-ion battery pack allows you to travel at least 500km without sunlight on a single charge.
And it does all this while still looking smart, sleek and stylish.
"eVe was inspired by a desire to move away from the old, traditional "space-ship" like solar cars," the team told Anthill about their inspiration to build the car.
"We wanted to create something that was not only efficient, but also had a strong character of practicality and aesthetics."
"eVe is trying to push the notion that solar and electric vehicles can be appealing, sexy, and desirable," they added. "We want to build a car that isn't just good for the environment, but good for the eyes! In terms of how we're attempting to fill that gap – take a look at the car."
Sunswift further told us that what sets the eVe apart from other solar-powered cars is that unlike many of its competitors; it focuses on using its power to the most efficient level.
"We keep the car extremely light, aerodynamic, and efficient in its energy usage," they explained. "This allows us to travel extremely high speeds, and travel extremely long ranges for the same initial amount of power, when compared to other teams."
How did Sunswift build the eVe?
The team revealed to Anthill that building the eVe consisted of a series of stages, with some of the notable ones including the following:
Flying the team to New Zealand, to work with Core Builders Composites to build the carbon fibre body
Determining the stringing arrangement for all of their solar cells, and then installing them on the roof of the car
Building and wiring the electrical components – with an emphasis on the battery, battery monitoring system, and motor controllers
As earlier mentioned, the team is now looking to get the eVe road-legal in Australia as early as March 2015, so they have a Pozible fundraising project going on right now.
Why do they need the money? Well, you see, for any car to be allowed to set wheels upon on Australian roads, it must adhere to the Australian Design Rules, which also happen to be some of the most rigorous standards in the world.
There is not a single solar car that has ever been constructed to such high standards.
So to pull this off, the Sunswift team needs to radically upgrade the eVe's internal components to that of current commercial cars so that once it is complete, it not only a record-breaking superstar on the race track, but also thoroughly in compliance with Australian consumers' safety and practicality expectations.
"While many solar cars exist around the world, very, very few of them have unrestricted road legality in their country of origin," they said. "Our aim is to get our car, eVe, road legal – and really change perceptions about having solar and electric vehicles on the road."
Sunswift further disclosed to Anthill that after that, the next major step is to enter the car into the 2015 world solar challenge – an international race from Darwin to Adelaide.
Check out more about the eVe below
Photo credit: Sunswift\Daniel Chen