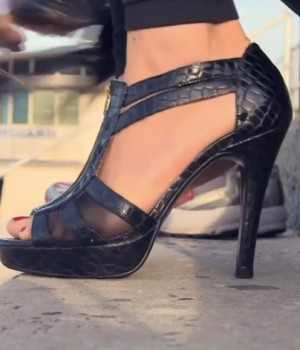 Shoes of Prey is kicking goals (pun intended) in all directions.
The startup was recently named the winner of the 2013 Kogan Australia Online Retailer of the Year Award by the Australian Retailer Association.
Plus, the company has been named as a finalist in the World Retail awards. Winners for that award will be announced this Friday.
All this comes as the startup launches its Series B funding drive. The business is looking to raise between $10 million to $15 million to continue the company's growth. About a year ago, $3 million was raised from investors including Michael Arrington, Bill Tai and, the co-founder of Atlassian, Mike Cannon-Brookes.
Somewhere, in amongst running a startup, raising capital and accepting awards, Shoes of Prey co-founder, Jodie Fox has had the time to complete the ultimate proof of product.
For those who don't know, Shoes of Prey allows customers to design their own shoes online. Then, the shoes are hand made and delivered, free, anywhere in the world.
For those of us who wear high heels, there is always a concern about the comfort of the shoe. Especially, if you are wearing them all day. So, how do you prove that your shoes are comfortable beyond all doubt?
To provide proof of their product claims (that these are the most comfortable heels in the world), Fox dons 4.5 inch heels (that's 11.25cm for those working in metric) and runs from Bondi to Bronte.
It's a run I know well from when I lived in Sydney and, I can tell you, it was hard enough to do in running shoes. Those stairs are fun!
And, there you have it. With this one video, Fox creates proof that the company's product claims are true.
It's as simple as that. You may not need to run 3km in 4.5 inch heels to prove that your product does what it claims but, you need to find an interesting way to make your point.
Heal broken ankle, heal! I have a hankering for some new shoes.
Bondi to Bronte run… In heels with Jodie Fox, Shoes of Prey
[videoframe][/videoframe]