IntelligenceBank, a business process software company based in Mebourne, recently announced the launch of its new office in Los Angeles.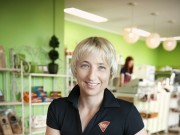 The small NSW business behind Australia's most awarded chai latte, Bondi Chai, was named the Asia Pacific Food and Beverage Company of The Year...
One of the most fundamental parts of any marketing campaign is, knowing exactly who you are talking to. The airline industry in Australia is no...
Global honours are always reassuring and on that front, there was a lot that warmed the cockles of Australian hearts. Three of this year's iAwards winners went on to win the Asia Pacific ICT Awards, or APICTAs. Two others received Merit Awards as Australia finished third among 14 nations at the 2012 APICTAs in Brunei earlier this month.
Hooroo's approach bears attention. It is not mining technology to deliver what many others are doing. Instead, it is bringing a strong human touch. Taking the long and narrow path, in a manner of speaking, Hooroo has built a community that tell its stories directly to other users.