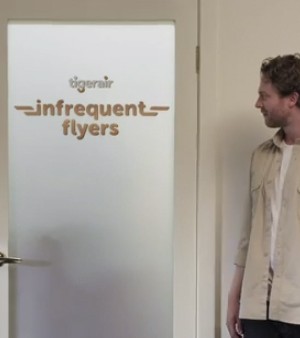 One of the most fundamental parts of any marketing campaign is, knowing exactly who you are talking to.
The airline industry in Australia is no different. Currently, we have QANTAS and Virgin vying for the top-end, full service holiday and business traveller markets.
There are regional players. Then there's JetStar and TigerAir. These two are vying for similar, if not the same markets as low-cost airlines.
TigerAir is an interesting one. After a rocky period where it was notorious for late flights and its fleet being grounded for safety concerns, this plucky little business has fought back. Better than that, its reinvented its brand.
So, how is TigerAir making its presence felt? How has it transformed itself? Well, it comes from knowing your market and, not taking itself too seriously. It has taken a leaf from the Virgin school of airline advertising.
Its latest ad sums its new approach perfectly – announcing the Infrequent Flyer program. It's a delightful take on the airlines with extensive membership rewards programs. It speaks to its market, its fun and positions the brand in the airline market. Well played TigerAir!
And, I don't know about you but, I've always wanted to know what the guy with that "Hollywood Blockbuster" voice looks like. Thanks to this ad, now I know.
TigerAir Infrequent Flyer Club – the very small lounge
[videoframe]