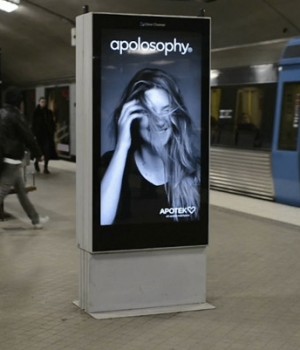 I'm yet to meet anyone who has shiny hair like it is shown in shampoo ads on television.
This Swedish shampoo ad, however, I can relate to – crazy hair after a brief encounter with some wind.
So, what's so interesting about that?
This ad is an interactive display inside an Swedish subway station. The display unit is rigged with sensors that detect the arrival of the train. In the interactive ad, the model's hair whips around based on the direction of the wind created from the train.
It's a nifty use of technology in an unexpected place – that's the hallmark of memorable advertising.
Shampoo ad in a Stockholm subway station
Need to raise capital? Want to become a more persuasive presenter? Want to master social media? Is it time to overhaul your website? Unlock the library to get free access to free cheat sheets and business tools. Click here for free business tools.