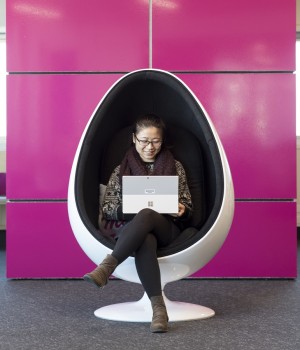 Mahuki, an innovation hub within the national museum has opened its doors to ten entrepreneurial teams. They will respond with digital solutions, to challenges faced by Te Papa and other cultural service providers across New Zealand and the world.
Te Papa Chief Executive Rick Ellis and Mahuki General Manager Tui Te Hau welcomed the teams to the Te Papa whānau (extended family or community).
"We are delighted to welcome the first intake of Mahuki teams, and we look forward to the hard work which will bring inspired ideas to market," Mr Ellis said.
"I firmly believe that Mahuki projects will transform the way New Zealanders understand our country, and each other. The team's products will have the potential to reach beyond our shores to share stories with the world," he says.
Mahuki General Manager Tui Te Hau says the Mahuki programme is a unique opportunity to tap into the creativity of innovators in New Zealand.
"Mahuki offers these innovators the chance to work in Te Papa's unique environment, with access to knowledge, collections and expertise, and a chance to market test with our millions of visitors," she says.
Which start-ups are joining Mahuki?
A pōwhiri (traditional Māori welcome) to welcome the teams and staff was held at Te Papa's Te Marae on Monday 15 August, with the programme expected to run for 4 months.
Point Zero
Chris Mather of Point Zero aims to inspire young people in science and technology; a challenge set by Mahuki.
Point Zero is a local Wellingtonian startup thats core capability is in 3D visualization and interactive hologram development, the latter of which has seen Mather in talks with potential clients across the world.
Point Zero is changing the way people can interact and engage with digital 3D worlds, whether it is for educating or allowing customers to customize 3D products for businesses and brands.
Interactive holograms enable users to control virtual 3D objects with touch screens or gestural movement. This kind of technology applied to the cultural sector would enable visualisation of complex science and technology for young people.
Time Limited
Time Limited, founded by four international students, Shengkun Xie, Zhen Wang, Jinke Luo and Lifeng Zhu, is entering the innovation incubator with a product that builds a timeline of locations of interest across the world.
The Time Limited platform will build up historic information from the past and present; anyone within a radius of 7 kilometers of a particular location can communicate with each other.  Popular and interesting information shared will be retained as part of history, meaning that the history in the future can be created by normal people like you and me, today. The platform will include upcoming events at any particular location.
Time Limited allows users to contribute their story through text, images, audio and videos to create layers for the future.  As the platform collects data, a collection of memories builds upon the timeline creating a virtual time capsule.
Time Limited is experienced in creating shareable content, which is a key driver to institutions within the cultural sector. By shaping their pre-existing ideas and knowledge, within the context of Te Papa, Time Limited could enable New Zealanders to better connect with their treasures.
IPSL
A true story of collaboration, the IPSL team consists of three leading Wellington businesses – Click Suite, Touchtech and Story Inc, working together to create a bespoke product for the Galleries, Libraries, Archives and Museum (GLAM) sector and beyond.
This team has the backbone of some serious skill sets; their experience includes creating award winning websites, mobile apps, interactive exhibitions and multimedia visitor experiences.
ISPL's development concept is to explore the possibilities of a product that will allow curators to mark interactive hotspots on 3D models of physical artefacts or high resolution photographs of artworks.
The data would link visitors directly to the rich collection knowledge within cultural institutions, enriching their visitor experience offerings.
Koha Information and Technology Systems
Kevin Shedlock of Koha Information and Technology Solutions responded to Mahuki's drive to connect Māori with taonga, one of the ten established challenges.
The team plans to work towards developing interactive, mobile and gesture enabled virtual experiences to tell the stories and traditions of Māori using Te Papa collection items.
Koha Information and Technology Solutions is currently working with iwi authorities and early childcare centres, providing technical options to improve access to Maori language, heritage and genealogy using technology as repository of knowledge.
The team is passionate about technology and indigenous culture and they have a catalogue of capabilities to develop strong ideas and products while taking part in the innovation incubator.
With experience in software and consultancy services specialising in web applications, and mobile software development, Te Papa's Mahuki team was impressed by the team's technical abilities and passion for authentic and compelling cultural digital storytelling.
Gamelab
Wellington based Gamelab enters Mahuki with over 15 years' experience in the gaming industry. Their development focus will be on combining pedagogy with game development to inspire young people in science and technology.
Gamelab's lead, Dan Milward, will respond to the Mahuki challenge sets with the idea of creating learning resources themed around curatorial and science work. The Gamelab team will concentrate on museum based discovery centres and technology stations using online build-your-own games platform Gamefroot.
Craft Mapper
Social enterprise team Craft Mapper, a joint venture of two Wellington based companies Craft Mapper and Rabid, intend to enable communities to determine and safeguard their own cultural heritage needs.
Their concept creates opportunity for communities to discover, produce, and supply museums with authentic, high-quality cultural products.
Craft Mapper's existing product identifies and records indigenous artisan craft practices, and to date this process has been done manually around the Pacific and more recently in Kenya.
Rabid meanwhile, is developing a software application for field works and community leaders. By combining the two projects, Craft Mapper could become a platform supporting a number of social, cultural and commercial initiatives which would benefit indigenous artisans, communities and museums.
The Craft mapper team is led by Wellingtonian Chris Delany and along with Rabid's Josh Forde, the team has over 20 years' experience in working with indigenous communities.
Dot Dot
Operating in interactive entertainment since 1999, Dot Dot responded to the Mahuki challenge of creating new museum experiences, with their own take on a virtual reality solution. Their solution is designed to address the issues and challenges of using VR hardware and software in a public environment.
The Dot Dot team, led by Aucklander Chris White, plans to develop a custom un-tethered headset and a platform that will enable developers to programme 3D exhibitions for a fraction of the cost of traditional exhibitions.
VR hardware is expected to be the market leader of the VR sector for the next four years and Dot Dot is dedicated to producing suitable VR hardware specifically intended for public engagement. Current models available in market are often tethered to a computer and not intended for constant use by visitors in the museum sector.
In-depth
The In-depth team is relocating to Wellington from Auckland, aspiring to develop an open-source platform that would enable museums to display additional content about their collections, both "on the floor" and behind the scenes to visitors in-person or online.
A key driver of the Mahuki programme is the call to develop solutions that would benefit cultural institutions around the world.
In-depth's key target sector for this platform would be museums that want to focus on exhibition creation and visitor experience rather than maintaining IT infrastructure, hiring development teams, and constant tender processes that can be involved in bespoke solutions.
The platform would offer museums a 'bang for buck' experience allowing innovative features that can be shared by all museums worldwide without compromising the uniqueness every museum offers their visitors.
Open Window
A product that allows galleries, artists and curators to design virtual art galleries will be developed by Lochana Wijesundera and the Open Window team, which includes Akira Kwan and Dora Tsao.
The product would offer an immersive artistic experience to viewers and prospective buyers, as well as better experiences for physical and hearing impaired museum visitors.
The team is passionate about developing this product concept further, with the hopes of empowering artists to explore new ways of artistic expression, and innovating how stories about art are told.
Ad Cloud
Also entering Mahuki is Ad Cloud. Their platform Wantad ™ provides a new way of delivering targeted messages for businesses, NGOs, infrastructural and community organisations.
The platform delivers full screen visual content to the users of mobile devices in a form of live wallpaper.
With the backing of strong team experience in PR, design, marketing, sales, financial management, business developments, software engineer and programming, Ad Cloud can potentially have a huge impact on the worldwide cultural sector.