Vantari empowers doctors and patients to better visualise and read medical imaging such as CT and MRI scans. The company's cutting-edge rendering technology takes the current visualisation of these images into Virtual Reality by creating an immersive and intuitive environment.
SilVR Adventures is providing highly immersive virtual experiences tailored to groups of seniors in aged care facilities across Victoria and planning to expand to more Australian states in 2020.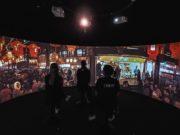 The company designs and develops immersive 360° projection spaces, which act a little like a giant virtual reality (VR) headset. With wraparound sound and vision, entire teams can be immersed in any 360° or VR content.
Australia risks losing pace with the advanced nations of the world by its failure to fully embrace immersive technologies such as Virtual...
Totem Labs uses cutting edge VR technology to expose patients in a gradual way to their phobia - whether it be spiders, snakes, heights, a fear of flying or otherwise - to help them overcome their fear.
Over the next decade, Virtual and Augmented Reality (AR) technologies will create opportunities for small and medium size businesses to interact with their customers in new immersive ways.
A feasibility study for ProjectR has begun, which will include developing designs for the state-of-the-art complex, and has been funded by some Wellington-based IT and technology businesses, who are collaborating on the project.
Mahuki, an innovation hub within the innovation hub has opened its doors to ten entrepreneurial teams. They will respond with digital solutions to challenges faced by Te Papa and other cultural service providers across New Zealand and the world.
Have you seen The Lawnmower Man? If you haven't, don't. It's enough to make you laugh off the idea of virtual reality all together....