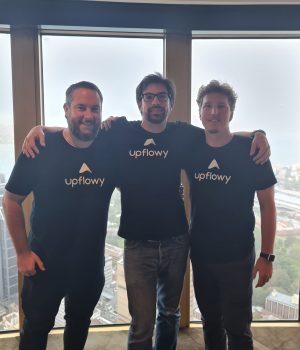 Sydney based software company, Upflowy, announced it has closed a AU$1M Pre-seed investment round. The cap table includes four international VCs including Tidal Ventures, Black Nova VC, Global Founders Capital and Antler, as well as a number of experienced senior business figures.
They include former APAC MD at Optimizely, Dan Ross, and Director of Growth at Deputy, Jordan Lewis, sitting on the Advisory Board.
Why gain much interest?
Upflowy is a no-code signup engine, giving marketers full control in building and experimenting with their signup flow.
The investment has given the team an opportunity to expand production and marketing at a rapid rate, with the launch of the platform to users and the Net Positive Podcast.
The podcast is co-hosted by Upflowy's co-founder, Matthew Browne, and Head of Marketing, Jessica Walker. They interview leading growth and product marketing experts, providing listeners with actionable insights on growth engines, growth hacking, and signup conversions with guests like Anna Cheng, Dan Ross & Jordan Lewis.
"I've been amazed to witness with each of our beta customers how much creativity and growth mindset we could unleash by bringing together an intuitive no-code building tool and an advanced experimentation engine," says CEO and Co-founder, Guillaume Ang
"We are ecstatic about the support from local and international VCs, family offices and angels, allowing us to close our funding round in just a couple of weeks whilst having to turn down more than three times what we were looking at raising," says Matt Browne.
"It is a testament to the need in the market for what we are building and the way we are approaching it as a team". says Matt Browne
"It is apparent that the market is ready for businesses to optimise their signup flow,", says Black Nova VCs General Partner, Darcy Naunton.
"Riding the wave of the no-code movement, Upflowy's seasoned founding team has created a user experience that provides both businesses and their customers with a seamless onboarding process." says Darcy Naunton.
"We believe that Upflowy, with their frictionless and intuitive platform, along with their informative podcast will become a stalwart of the growth marketing industry."
Tito Costa, Partner at Global Founders Capital, says of their investment, "Upflowy enables marketing teams to independently iterate and optimize signup flows based on detailed analytics, without tying up engineering resources."
"We are excited to back an experienced team of founders building a product that can drive real revenue impact to their customers."
"Growth teams that optimise the customer acquisition journey are constrained by the product roadmap and tech availability of the business as experienced in our own portfolio companies" says Georgie Turner, Principal at Tidal Ventures
"The Upflowy founders saw an opportunity to create an easy to use product that will enable teams to launch world-class sign up flows."
Upflowy's focus is on collecting deep feedback from leading companies and partners across a number of industries to provide continual value to current and future users.
Upflowy is proud to have closed their Pre-seed round and utilised the capital to expand the core team, accelerate growth locally and internationally, focusing on building unique data set for easing early adopters' launching amazingly efficient flows.