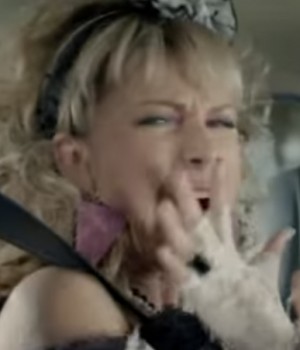 I'll admit it. I don't watch a lot of commercial television.
But, when I do, there have been three ads this year that have made an impression. These three ads have made me laugh out loud, every time I saw them.
Why do they work? Possibly, with one of them, it's because I can relate to the horrors of fingerless lace gloves and bad perm in the AAMI ad. Let's just say that I, for one, am happy no one from my Year 9 class has uploaded any photos from this era on Facebook. Yet.
The AAMI ads work because they make us laugh. And, we laugh because we can relate to them. But, at the same time the ad is also pushing a stereotype to the extreme. The actress's horror at her younger self is completely believable. And, her acting as her younger self will bring back many cringe-worthy memories of many.
Similarly, the SpecSavers ad is ridiculous. But, the ridiculous premise also makes sense. Again, the acting performances are superb.
And finally, there's the iSelect guy.
Frankly, (that's not his name, it's actually Jason Geary) this guy just rocks. He appears so natural, so obtuse but is also making sense. This is probably because Geary is an accomplished improv actor. From the moment he uttered the words "Tens year of dance – jazz, ballet" in the lead up to June 30 in 2013, I knew iSelect were on to a winner with this guy.
The big lesson here is never underestimate the value of humour, delivered in a realistic way in creating memorable marketing.
Video #1: AAMI – Past/Present
[videoframe][/videoframe]
Video #2: SpecSaves – Workout
[videoframe][/videoframe]
Video #3: iSelect – Don't be an April Fool
[videoframe][/videoframe]