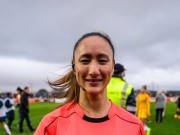 Soccer player and entrepreneur, Simon Murphy, is transforming the way soccer games are recorded with his newly launched app, RefLIVE
The FIFA World Cup 2014 in Brazil is already in high gear and, if you're a football fanatic like me, your life is now...
With zest and a flair for the dramatic that would make even the most hardened movie-trailer editor cry in her popcorn, Google has assembled a video that recalls 2010 as seen through the Mountain View monolith's all-seeing eye. The video promotes a page that shows the top searches worldwide -- including our search behaviours in Australia.
This week, Barker and Gettlere talk with AFL CEO Andrew Demetriou on the AFL's expansion plans, its business model and its involvement with communities outside Victoria, where the organisation is pushing development of the Australian Rules code. And what will happen if Australia gets the World Cup?