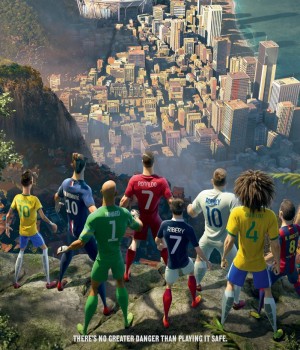 The FIFA World Cup 2014 in Brazil is already in high gear and, if you're a football fanatic like me, your life is now timetabled around the kick-off times.
Yes, that date can wait, these goals can't…
As usual, the big corporate brands are out to out-shine each other with their star-studded commercials. This year, Nike's The Last Game ad is the one that has stood out for me.
Channelling the spirit of Despicable Me, the five-minute work stars animation versions of Rooney, Cristiano Ronaldo, Neymar, Iniesta, Ibrahimović, Ribery, David Luiz and Tim Howard in an epic match to save the beautiful game from an evil scientist and his clones (which for some reason are all sporting bowl haircuts).
I'd love to give you more spoilers but, you just have to see this yourself.
What marketing lesson can an entrepreneur take away from this ad?
Let's start off with a quick exercise.
Think of a good story you've heard in the last few weeks, any story, whether you heard it at the water cooler or at the bar last Friday.
Now, think of a good statistic you've heard recently.
Which one came easiest? I bet it was the story.
You see, stories tap into our emotion and stick in our heads, sometimes for years. While numbers on the other hand, well, they kind of bubble out and float away in minutes.
We are simply wired to remember stories much easier than data, facts, and figures.
And get this, stories are more powerful today than ever.
Why?
We are drowning in information!
Good stories can cut through the noise. But, what makes a good story?
It has a clear beginning and a clear end
It has a clear, authentic and relevant message
It is engaging (often loaded with drama or tension)
If you think about it, you will notice that this Nike ad has all the above three elements!
Nike could have bombarded us with stats and data on how sleek, hi-tech and aerodynamically superior their latest football boots are. Instead, Nike chose to give us an awesome story that has some of us wishing it was a full feature animation.
Now, isn't this the kind of marketing you would like to emulate?
Nike Football: The Last Game
[videoframe][/videoframe]