All over the globe, remote working is on the rise. With the rise of technology in the likes of smartphones, tablets and laptops and also through increased online connectivity...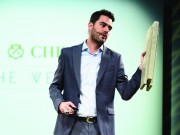 The Venture, luxury whisky Chivas Regal's search to find and support the most innovative startups from across the world, rewarded five social enterprises the remaining share of their $1million annual fund at their Final Event in New York City.
Aussie consulting startup Expert360 continues to drive the global demand for flexible work, recently opening its first international office in New York City
Aussie-based Dsync has been named among the top 24 tech start-ups for 2016 by the National Retail Federation, the world's largest retail trade association
KPMG Australia and Advance have launched the 2016 elevate61 accelerator, opening up applications to Aussie tech start-ups ready to conquer the US market.
The events industry has always adapted to new technology early. Holograms, laser light technology, beacon and geo-location based activity, live polling and several other...
The Eighth Annual Stevie Awards for Women in Business invites successful women to have their accomplishments recognised on a global scale. The awards are judged by several leading women entrepreneurs, and winners will be announced at a gala awards dinner in New York City in November.
The 2011 We Media PitchIt Challenge is offering $50,000 in seed funding to help launch two innovative media and tech startups. It's now open for entries and the deadline to enter the challenge is 4 February 2011. Two winners each will earn a $25,000 sponsorship to help launch their idea.
Better Place, an ambitious, venture capital backed company, is building electric car infrastructures targeting major cities around the world. The idea is simple yet constitutes a radical departure from conventional wisdom – instead of stretching the technological limits of a battery's life, Better Place is constructing a network of battery swap stations that will allow electric cars to replace its depleted battery for a new one in less than 60 seconds.