It is targeted at later stage B2B startups, who have ideally secured seed funding, turnover of at least AU$500,000, and have proven traction in local or overseas markets.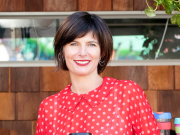 The outcome was a lightweight and thoroughly considered design that was BPA free and non-toxic; the world's first barista standard reusable cup, KeepCup was born.
TechSydney is a not-for-profit enterprise led by some of Australia's most successful and influential entrepreneurs and innovators who have a mutual determination to see Sydney boom onto the global tech stage.
Makinex is an Australian owned private company that have been experts in the design, development and distribution of innovative products since 2004.
It's looking to be a watershed year for Magic Leap's Mixed Reality LightfieldTM tech and Wellington's Weta Workshop is playing a pivotal creative role
Australian innovation network, Advance and KPMG Australia have revealed the 11 enterprise tech start-ups selected to take part in the 2016 elevate61 program
Social enterprise Who Gives A Crap has collaborated with Melbourne artist Stephen Baker to create a limited edition Christmas toilet paper wrapper
IntelligenceBank, a business process software company based in Mebourne, recently announced the launch of its new office in Los Angeles.
Brisbane-based Brus Media started out as a Facebook app but co-founders Nic Blair and Shon Siemonek soon turned it into a hot mobile app marketing start-up
KPMG Australia and Advance have launched the 2016 elevate61 accelerator, opening up applications to Aussie tech start-ups ready to conquer the US market.
Any business owner out there will tell you that importing has always been quite a hustle, especially thanks to the fees that come with...
We've seen countless pre-teens pound eye-melting video games into submission and treat laptops and mobile phones like the devices are extensions of their bodies. So we can't be completely floored by Thomas Suarez, a seasoned iPhone app developer who's about five years away from qualifying for a driver's license.