The announcement that Bose intends to close 119 stores across Australia, Europe, Japan and North America should come as a warning to offline retail outlets. Online shopping is far surpassing walk-in outlets.
Cashrewards is disrupting the way Aussies shop online, driving a massive $70 million of Aussie shopping dollars since January, without any investor funding.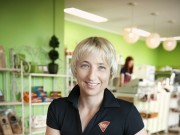 The small NSW business behind Australia's most awarded chai latte, Bondi Chai, was named the Asia Pacific Food and Beverage Company of The Year...
Enter Dr Ian Birkby, a former professional first grade rugby league player turned science PhD whose Sydney-based website network is whipping up a storm...
Gerry Harvey, chief of Harvey Norman, is now in his 70s. In this rare interview with Gary Barker and Leon Gettler, he talks about the stupidity of people retiring at 65. He also shares insights on the future of Harvey Norman.
The apathy toward online retailing by Australia's incumbent 'bricks and mortar' retailers has allowed some notable upstarts to gain a foothold in the digital shopping space. Kim Wingerei examines opportunities lost and seized.