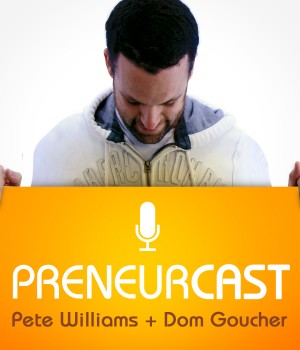 PreneurCast is a business podcast. Each week, author and marketer Pete Williams and digital media producer Dom Goucher discuss entrepreneurship, business, internet marketing and productivity.
It's the end of the year (almost) and in this episode Pete and Dom discuss their 2011 Awards. Categories include: Books, Software, Hardware, Podcasts, Training Courses, Services and Blogs.
Pete and Dom discusses about the things that influenced them the most this year
Transcript:
Read it now.Hide it.
Links:
– Books
Built to Sell – John Warillow
Pitch Anything – Oren Klaff
– Software/App
Dropbox
Evernote
Zite (iPad)
– Hardware
Doxie Scanner
EyeFi Card
iPad
Livescribe Smartpen
– Podcast
I Love Marketing
Mac Power Users
– Course
Dan Kennedy's Influential Writing
Immediate Edge (there's a $1 trial right now!!)
– Service
http://www.shoeboxed.com/
http://JustReadItFor.me
– Blog/Site
http://www.noise.re/
http://www.macsparky.com/
http://www.fourhourworkweek.com/blog/
http://sethgodin.typepad.com/
http://www.marco.org/
– Documentary
Comedian – Jerry Seinfeld
Win Stuff!We are now regularly receiving copies of books (and other goodies) from the authors we feature to give away to PreneurCast listeners. To enter our current competition, just visit: http://www.preneurmarketing.com/win.
Keep checking back for the latest competition and prizes!
If you like what we're doing, please leave us a review on
or a comment below.