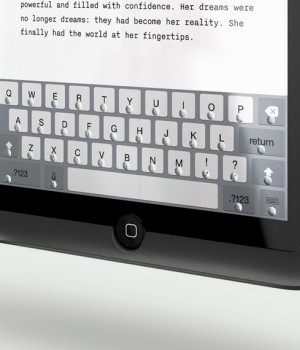 Humans adapt to new things pretty quickly.
Think of how annoying it is having to type in a code into your smart phone or tablet, compared to finger print identification? How quickly we adapted to something we didn't have before!
But, apparently, some people are not yet comfortable typing on the in-screen keyboard on tablets.
Tactus Phorm is about to change all that. It's a case for your device that, with a flick of a switch, generates a tactile keyboard. It looks as if the keys emerge from the screen. Flick the switch, and the keys disappear and it's a flat screen again.
How does this happen? Fluid dynamics. The front cover has a thin layer of liquid in it. Flick the switch and the pressure on the fluid changes, causing the key shapes to bubble up. Nifty huh!
It really looks like the stuff of the future from sci-fi novels but, it's available for pre-order now, if you have an iPad min. (Why, actually, I do!)
Introducing Phorm, the world's first morphing touchscreen
[videoframe][/videoframe]