Epic Catch focuses on bringing two people together over an activity that they both find appealing. This takes away a lot of the pressure often associated with online dating or joining a larger, established group.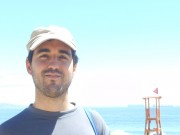 Brisbane startup, Zenva has launched a new Kickstarter campaign to raise funds to build Codemuari, a mobile app that teaches programming to users on the go
Performance advertising technology company Criteo recently revealed its Travel Flash Report. The report highlights the increased use of mobile devices in consumer travel planning...
Barricade the doors! Nail some boards over the windows, and start running? Really? Is that all you've got? It doesn't have to be. Sensis is offering $2,500 in prize money to the designer of the best app to get us through a zombie apocalypse. Read on anti-zombie warriors!
Wouldn't it be easier if your iPhone did everything? Well, now it almost can. Now, it can buy you drinks without the need to carry cash. A cash-free system for buying cocktails. What's not to like?
Adelaide's Startup Weekend in March found some interesting and commercially viable new mobile apps.
Australian software start-up company PlayUp offers sports and media personalities the opportunity to monetise their social networks, by linking them to premium "pay-per-play" content that already interweaves sport and social interactivity. The PlayUp app is now in the top five downloaded apps in 80 countries and number one in 30 countries.
A location-aware platform, Spreedle will allow businesses to target buyers in their vicinity and set their own schedules for posting digital vouchers, deciding for how long and for how many customers the deal is valid. Can this Sydney start-up make a splash in the Groupon market?