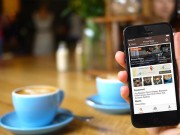 Coffee review and recommendation app and website Beanhunter recently successfully completed a $500,000 funding round.
Startup Spring, being organised by StartupAUS, will be a three-week long, Australia-wide festival of more than 50 events and activities to celebrate and promote the tech startup community and encourage more Australians to become tech entrepreneurs.
The platform could help media companies pick a journalist in any part of the world for an assignment without the cost of sending one out there. For example, an Australian magazine seeking special coverage of the inauguration of a new Pope in The Vatican could, presumably, use Newsmodo's network to find a duly qualified journalist for the job.
When the economy gets tough, providing services over the Internet just gets better, according to a survey from Freelancer.com for the first quarter of 2012. The number of jobs listed rose from 140,000 to 170,000 in the first quarter of 2012. Some roles are star performers.
There are Australian companies galore in the 16th Annual Webby awards nominations. With more than 10,000 entries received this year, eight Australian companies have made it to the finals. All of these companies will now be fine tuning their five word acceptance speeches.
Matt Barrie is an award-winning entrepreneur, technologist and Chief Executive of Sydney-based Freelancer.com. In 2011, he was named BRW Entrepreneur of the Year. Throughout his entrepreneurial journey, Barrie has experienced his fair share of ups and downs. In this Q&A interview with Alex Pirouz he explains how a vision much bigger than yourself can make it easier to push through times of uncertainty and hardship.
Outsourcing big kahuna Freelancer.com has finally signaled its intent to muscle in on 99design's graphic design crowdsourcing turf, stumping up US$20,000 in cash-money for creative types. Has Australia become the new global crowdsourcing hub?
We realised that although there are 6.8 billion people of the earth, only 2 billion have the Internet. However, they are now getting online at record rates. While people join up, looking to improve their socio-economic situation, the Internet began delivering a tectonic shift to the global labourforce. Freelancer.com was created to facilitate this shift -- by connecting businesses of all sizes to the world's largest liquid workforce -- over 2.3 million professionals.
In this podcast, Leon and Garry talk to Matt Barrie, the CEO of Freelancer.com, a Sydney-based company and recent Anthill Cool Company Award winner. Freelancer bills itself as "the world's largest outsourcing marketplace" with over two million registered users. Barrie explains the keys behind the success of the website and the appeal of online outsourcing in a globalised economy.
What's interesting about the tally above is the lesson it offers in new media marketing. For example, the leading two 'cool companies' generated more than double the social media responses to the full list of eighteen finalists combined. But only one could be described as a 'new media' company with natural online reach.
Online outsourcing marketplace (and Anthill Cool Company Award winner) Freelancer.com has released the results of its 2010 Freelancer Fast 50 index, an analysis of 320,000 online job postings, revealing the most (and least) popular technologies desired for freelance jobs in 2010, providing a barometer of technology trends.
Freelancer.com has a long, long reach. Headquartered in Sydney, the web-based company connects business and individuals who need a task done with those who have the talent do it. Freelancer.com has more than 2 million users. The company describes itself as a marketplace of talent -- an eBay of people, if you will. The company so impressed our august panel of Anthill Cool Company Awards judges that it took top honors in two categories: Global Growth and Online Business.