Home
Tags
Fortitude Valley
Tag: Fortitude Valley
Conpago, based in Brisbane's Fortitude Valley, integrates technology and the daily habits of elderly people with appliances that let them remain connected with their family while also creating a social health monitoring solution.
The Venturer program will build skills and character traits that are fundamental to entrepreneurialism, such as resilience, problem-solving, resourcefulness, risk management, creative thinking and leadership.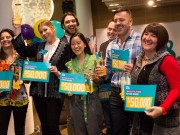 The inaugural Optus Future Makers program, launched earlier this year, is designed to foster digital innovation that has the ability to change the social landscape.
Deliveroo bounds into Brisbane following impressive growth (30% week-on-week) The service has grown restaurant portfolio to 600 in just six months
Brisbane start-up hub River City Labs has opened applications for entrepreneurs and start-ups to take part in its three-month Sponsored Entrepreneur Program
Brisbane's top co-working community and start-up hub, River City Labs, has announced its imminent plans to double in size within the next, six months.
Holistic education services provider, Cohort Solutions, continues to grow globally, announcing that its payment platform Cohortpay is now in 60 countries
RiverPitch, an initiative of River City Labs, is coming to town again – offering startups the opportunity for a "free meal and the chance to network with 30+ investors."
Brisbane's street food scene just got a lot more picante. Jordan Birchall found the idea for Tuckeria Fresh Mexican while living in California. Although the Financial Crisis slammed the lid on his real estate venture, he found the Mexican cuisine culture there to be a whole new opportunity to take home with him. "I started Tuckeria to prove that not all fast food is bad for you," he says.
We saw the need for Business to be able to access simple, clear web strategy consulting + planning, and thence order 'best of breed' related site/s and systems, for a low cost (less than half that of traditional processes), get it fast, and then access ongoing support and an ever expanding library of member's only 'how-to' content on Web Marketing (and anything that touches it), along with the usual 'how to use the system' type stuff and direct support. This is the advanced (revised) version of something I've been working on (albeit slowly) for 3.5 years.