Home
Tags
Business confidence
Tag: business confidence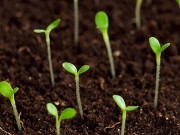 Close to half of Aussie small businesses surveyed (49 per cent) indicated they were 'very' or 'extremely confident' of growth in the next 12 months, however nearly one in three had a neutral outlook — believing their business will remain stagnant.
The SME Index survey found the top three business goals for SMEs in 2017 are enhancing products and services, hiring new staff and improving accounting systems.
Gen Yers may be the only group within Australia's small-to-medium operators to take heart from the latest MYOD Business Monitor. Despite an eye-watering eight-year low amongst SMEs' economic confidence, Gen Y business operators were most likely to see positive revenue results over the last year.
Leon and Garry talk about rising business confidence masking patchy business conditions. Consumer sentiment has dropped and fewer people are taking out loans; however, more people are using their credit cards. Meanwhile, a new report from the Australian Bureau of Statistics shows Australians are wealthier and living longer.