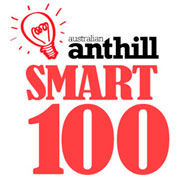 Anthill's 'SMART 100′ Index was developed in 2008 to identify and rank Australia's 100 most innovative products, proving to be one of the largest surveys of its kind in Australia.
THE SMART 100
And the winners are (cont.)
11. Reverse Rural Electrification
Company: Barefoot Power
Headquarters: Bathurst, NSW
Sitting at home or work with all and sundry electrical appliances plugged into the grid, it's easy to forget that there are over a billion people in the world who don't have access to electricity. Barefoot Power combines micro renewable energy and micro business services to provide lighting to even the poorest communities. They do this by offering a cheaper alternative to kerosene – affordable lighting products starting at a single household LED lamp. From there, Barefoot's strategy is to develop 1-5W solar panels and, later, mini-grids to bring even greater benefits.
12. Solar Climate Control System
Company: Sun Lizard Pty Ltd
Headquarters: Mt Evelyn, VIC
Cool a building by using solar power? Sure, it sounds a bit back-to-front. But it works. Moving the solar power industry into even greener pastures, the Sun Lizard combines solar electricity panels and solar thermal panels to create a 'climate control solution'. Using natural air movements to heat and cool, the Sun Lizard technology invented by Colin Gillam supersedes systems that only offer solar heating.
13. Yoober
Company: Yoober
Headquarters: Melbourne, VIC
Consider this for a moment. Sending a text message from a mobile phone is four times as expensive as downloading data from the Hubble Space Telescope. While you might have thought your bill was a bit on the high side, like us, bet you never thought it rivalled NASA's ledger. Yoober is a freeware program that can be downloaded to any Java enabled phone and lets the user send data-based messages to another Yoober-enabled phone – at a fraction of the cost of traditional text messages.
14. simPAD
Company: Fred Bergman Healthcare Pty Ltd
Headquarters: Melbourne, VIC
Existing continence care procedures for the aged and disabled are extremely manual, expensive and time-consuming. Pads have to be physically checked and, if necessary, changed several times a day. SimPAD® system involves a sensor and transmitter inserted into a traditional adult incontinence pad. It sends data to a PC/laptop revealing what kind of event has occurred in the pad, which is then converted by an algorithm into graphical diagnostic data and an automated bladder chart. This information is communicated via Wi-Fi to a carer, who decides whether a pad change is required.
15. Crust Heart Foundation Tick Approved Pizzas
Company: Crust Gourmet Pizza Bars
Headquarters: Melbourne, VIC
If you've often wondered why pizza joints don't offer a low fat (but still edible) menu option, well, it seems Crust has answered the call, adding six Heart Foundation Tick Approved Pizzas on its menu. Crust's innovation means it's also getting a slice of the health and wellbeing sector by offering pizzas with 50-70 percent less sodium, virtually no trans fat and up to 80 percent of the recommended daily fibre intake for adults.
16. ATM Raminator

Company: Lockit.com.au
Headquarters: Sydney, NSW
If it's ever crossed your mind to ram raid an ATM and make off with the cash, well, it's probably best you don't bother. If the ATM you target is fitted with the ATM Raminator, that loot isn't going anywhere. After Sydney's ATM ramming bonanza 2005/2006, Richard Gould began working on a solution in the form of a metal shock absorber. Usually, when a car rams an ATM bolted to concrete, the shockwave from the moving vehicle forces the bolts out of the concrete. ATM Raminator's design, on the other hand, absorbs the shock of the impact using metal plates, keeping the bolts – and cash – firmly in place.
17. T-Line Safety System
Company: Meridian Safety Pty Ltd
Headquarters: Perth, WA
Only a certain type of person is willing to work high above the ground, every day – on buildings, at mine sites and the like. The T-Line Safety System is a breakthrough "fall arrest" device that is doing its bit to remove some of the safety risk to workers at height. The T-Line Safety System is different from other fall arrest devices in that it provides both vertical and horizontal freedom for the user, without the risk of the potentially fatal pendulum effect. The T-Line will also arrest a fall within a much shorter distance than some existing technologies.
18. Waterless Car Washing and Detailing
Company: Ecowash Mobile
Headquarters: North Richmond, NSW
Gone are the days of spending an afternoon with a running garden hose, chamois and Turtle Wax, washing and buffing the car. Addressing the need for an environmentally-friendly alternative to dam-draining car washes, Ecowash Mobile is a totally waterless car washing solution that comes to you – yes, we wondered how it works, too. They use a polymer compound called polyslick 3TM, which wraps around the dirt and lifts it from the duco. The dirt is then wiped away with a soft cloth, leaving your car buffed and polished. In less than five years, the waterless innovation has expanded to over 17 countries and more than 60 franchises. At the time of writing, the 'water we've saved so far' odometer on Ecowash website is well over 54 million litres.
19. Tube Terminator®
Company: CMA EcoCycle
Headquarters: Melbourne, VIC
Whereas, in the past, globes went straight to the tip or were sent intact for recycling, the Tube Terminator® offers the solution to disposing of mercury waste responsibly. A mobile computer-controlled lamp-crushing unit, fluoro lights are crushed into a replaceable bag under vacuum. A carbon filter removes the mercury vapour before it is expelled from the unit. The waste is then collected and sent for processing to separate the various components for recycling, including distilling the mercury.
20. Sweet Dreams
Company: Tink Tank Pty Ltd
Headquarters: Bella Vista, NSW
Tink Tank's Sweet Dreams is a patented, disposable patch that fits discreetly inside your pillow. Throughout your sleep, Sweet Dreams slowly releases its scent, which includes anti-snoring and decongestion blends, to deliver the soothing benefits of aromatherapy. Eliminating the need for oil burners, diffusers or skin irritations from direct on-skin application, Sweet Dreams isolates the scent to the user's pillow and not the entire room. A one-step solution that's suitable for both children and adults, sleep easy knowing Sweet Dreams makes it into the Smart 100 Top 20.