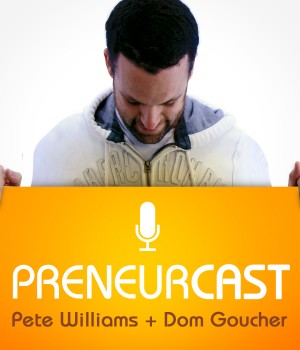 PreneurCast is a marketing + business podcast. Each week, author and marketer Pete Williams and digital media producer Dom Goucher discuss entrepreneurship, business, internet marketing and productivity.
In the last show of the year, Pete and Dom give something back to you, the listeners with a competition to win some of their favourite things from previous shows, and there are a few announcements about what's coming in 2012. Listen in to find out more.
Pete and Dom is giving something back to the listeners as they prepare for 2012
Transcript:
Read it now.Hide it.
Win Stuff
We are now regularly receiving copies of books (and other goodies) from the authors we feature to give away to PreneurCast listeners. To enter our current competition, just visit: http://www.preneurmarketing.com/win.
Keep checking back for the latest competition and prizes!
If you like what we're doing, please leave us a review on
or a comment below.