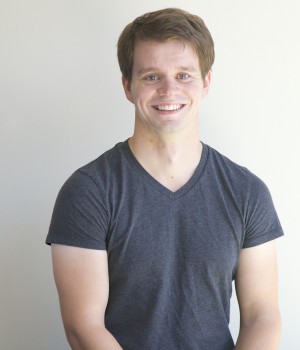 29-year-old Mat Peterson has loved programming and apps ever since he was just a child.
"My father had a solid understanding of programming and he wanted to pass that on to me, so I learnt the basics from him. I was hooked straight away," he shared with Anthill.
Mat developed his first app, M-Beat when he was just 17 years old (a whole 6 years before Apple launched the App Store) and launched The Little App Factory a year later, focusing on media organisation apps.
The real watershed moment came in 2010 with the launch of the iPad – providing an incredible vehicle for creating highly interactive and functional apps and Mat saw the potential there to create apps that could really add value to the world.
Passionate about learning and teaching, Mat launched Shiny Things in early 2012, in Frenchs Forest, Sydney and hired a team of designers and engineers who had actually never even made apps before.
"Let's just say it has been a steep learning curve!" he remarked with humour.
What exactly does Shiny Things do?
Shiny Things works to provide high quality challenging tools to improve the numeracy and literacy skills of kids of all ages that are not only fun for the kids to use, but are beneficial to teachers in the classroom.
This is why they work closely with educators, children and parents during development.
One of their most popular apps, Quick Maths+, is an innovative app that engages kids in the classroom and at home by providing challenging game modes to test memory, logic, estimation ability, and pattern recognition, alongside arithmetic skills.
With a focus on self improvement, Quick Maths+ encourages the development of mental arithmetic skills as players race the clock to improve their score and earn stars to unlock fun new avatars. Remember, it's all about making learning exciting.
"We believe innovative technology can dramatically improve how we engage kids in learning inside and outside the classroom. For example, a great feature of our apps is that users can write and draw directly onto the screen, which has similar cognitive benefits to traditional handwriting," Mat explained.
"We also strongly believe that technology is a powerful tool for education – our apps provide a unique way for students to interact directly with the learning material and allow them, along with their parents and teachers, to track their progress," he added. "We aim to prove to even the biggest sceptics that technology can work with, not against, teachers and parents."
Refusing to advertise to the kids
Of course, there are other developers out there creating educational apps but Mat points out that one thing that sets Shiny Things apart is that they are firmly against in-app purchases targeted at kids and third party advertisements in educational apps for children.
"We value customer privacy and so we don't collect any data," he explains. "We want the parents of kids who love our apps to feel comfortable about their children using them; they shouldn't have to worry about their kids racking up huge fees from in-app purchases without their knowledge."
On finally letting the cat out of the bag
When starting out, most start-ups look for as much publicity as they can get their hands on to get the word out about their business, so we were curious to know why Mat has chosen to keep a low profile with Shiny Things, until now.
He explained that as a start-up, they wanted to devote all their time and energy to creating the best quality apps they could.
"We work in consultation with students, teachers and parents to get a really solid understanding of everything – from common problem areas that kids struggle with in the classroom, to what kind of features motivate their learning, to how we can work with the current school curriculums."
"And while we continue to develop our knowledge of these areas, we are now keen to raise the awareness around our apps and the benefits of innovative technology in childhood education," he added.
Shiny Things has enjoyed success both locally and globally. Three of their apps, Quick Maths, Quick Maths + and Shiny Party, were all selected for the App Store Best of 2013 in six different countries and after only being around since 2012, they are already close to reaching a million downloads!