Taking grapes from Western Australia's Frankland River region, Ferngrove River Wines has exported wine from one of the most secluded wine estates to China's booming wine market. It is one of many Australian wineries exporting to China looking to quench China's growing thirst for wine.
The brand has enjoyed the assistance of Chinese stakeholders and distributors in its Chinese business endeavor. Solely riding on the prestige of being Australian-made wouldn't have been enough to achieve success in China if they were working alone, said managing director Anthony Wilkes.
"Half the challenges are knowing who to talk to, where you're going, who's drinking your wine, who's interested in it and how they're drinking it."
"We don't change our wine styles, but how we do our business, activities and entertaining is very different to how we do business in America or Europe."
For businesses without a Chinese partner, they face a number of challenges including language barriers, bureaucratic red tape, a market with a different demographic and expectations, and the difficulty of understanding cultural nuances.
Looking to the online marketplace
Benjamin Sun, director of marketing firm Think China said selling wine along a China-friendly digital channels is the best way to enter the Chinese market.
"99 per cent of the Australian websites currently have loading issues in Mainland China. China blocks Google APIs, the great firewall causes a range of problems for websites hosted overseas, and with an 86 per cent mobile penetration in China, loading speeds and responsiveness of your website become crucial for success," he highlighted.
With the popularity of French and South American imported wines in China, direct communication with Chinese wine drinkers is crucial, said Sun.
"When selling wine in China it is incredibly important to build your brand awareness and its heritage online. Through social media, people can directly order through the app WeChat, learn about your brand history, product information, and can even test if your bottle is genuine or not by scanning your barcode."
How to NOT sell wine in China
Wine is commonly seen as a status symbol among China's wealthy and educated urban professionals. China's wine preferences shifted following political developments as China's 2013 anti-corruption movement saw demand for high-range wines fall and the popularity of mid-range wines rise.
Despite these general trends, Sun warned wineries against "marketing to China as one". "If you want to enter the China market, start from a city or a few cities because in China, each province has its own local legislation. Even a second-tier city like Qingdao already has a population of almost 9 million."
After years of trial and error, Galafrey Wines found changes to the content of their marketing had to be overhauled to achieve success.
Although Australians "love the story behind the label" said Galafrey Wines CEO and owner Kim Tyrer, this approach failed to gain interest from Chinese wine drinkers.
"We're a family business and we often promote ourselves as a family business. But in China they're not interested in that. They're interested in the product itself, the region and being clean and green."
The market is set to grow
Australian exports to China have increased 20 per cent to 44 million litres with a value of $242 million in the year to March, reported the Australian Grape and Wine Authority.
China's wine market grew 18 per cent from 2012 to 2013 to eclipse Australia's growth of just below 2 per cent over the same period, according to Marketline's 2014 Marketing Industry Profile.
China's total wine market was 1,821 million litres at the end of 2013, almost three and half times of Australia's wine market.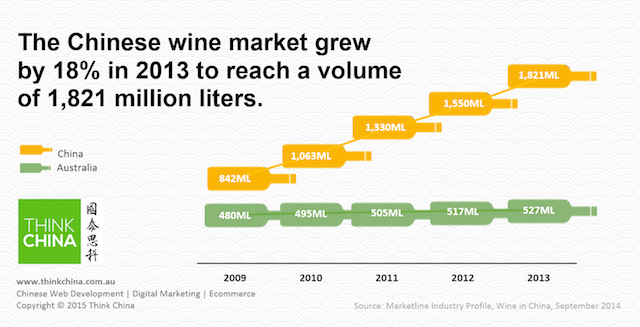 With shifts in China's economy, the appetite of China's wine drinkers will continue to grow, said Lawrie Stanford, executive director of Grape Growers Australia.
"With the growing affluence of middle income earners, they'll also be looking to luxury items like wine. As the middle-income bracket becomes more affluent, the general consumption prices will rise so Australia can be more competitive."
China's wine market value was 60 per cent of the total Asia-Pacific region compared to Australia with a value of 18 per cent in 2014, according Marketline.
China's tastes are changing
Although the tastes of Chinese wine drinkers differ from that of Australia, these preferences continue to develop.
After selling pallets to China for two years, Snake and Herring's wine navigator Redmond Sweeney was surprised to receive Chinese interest in the brand's chardonnay and riesling.
"When I did go to Hong Kong, Guangzhou and Shenzhen, every function that I went to they were guzzling red wine. They drink so much tea, they're used to tannin and structure so the red wine was obviously for their tastes."
Sparkling wine and champagne only made up 1.5 per cent of China's total wine market in 2014. In comparison, sparkling wine and champagne were 29 per cent of Australia's total wine market during the same time period.
Wine education classes publicised and organised through social media are successfully widening the appeal of Australian wines in China, said Steve James, manager of winemaking and viticulture at Voyager Estate.
"There's certainly a real interest in wine, people particularly of the younger generation as well. I guess it comes down to the computer age. It's so easy to access information nowadays. You can have a knowledge about a wine without even visiting the region."
With hopes to increase Ferngrove River Wines' exports to China, Wilkes said knowledge of the Chinese wine drinkers has been key to the label's success so far.
"You can't expect Chinese drinkers to come and find you. You need to spend time in the market, see who's drinking it, where they're drinking it and go out and have an appreciation of the market."
Charmaine Wong is a media officer at digital marketing firm Think China.