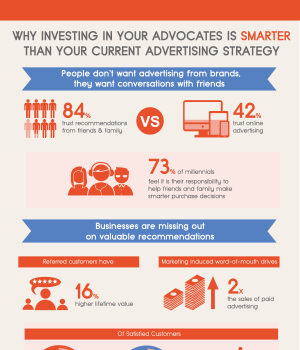 As a business operator, do you wonder how much of your time should be dedicated to social media when you know deep down your best source of new business will come from word of mouth?
Indeed, the lack of time, tight budgets and an inability to measure return on investment is making many brands, large and small, question the benefits of social media for their business.
Now, Recomazing has come up with a clever way to make social media work for start-ups and other service-based businesses, by offering a unique and simple solution to help deliver referred customers and drive sales, and it doesn't need to cost a cent.
Recomazing is a social media platform that works by enabling friends to find, make and share business recommendations to their social media network – saving everyone time and money.
"With Recomazing, businesses simply create a profile to enable their customers to give them a 'reco' and the customers' entire social network can then access it. So, if a person is searching for a particular business, for example a health & fitness app or a website dedicated to improving wealth management, they can check out their trusted friends' recommendations first on Recomazing before making their transaction decision. And if they find a great business and want to let others know about it, it is very simple to proactively give it a 'reco'," said Marc Cowper founder of Recomazing.
With many business owners struggling to see the benefits of being on social media, Cowper came up with the idea of Recomazing to offer businesses an easy, time efficient and cost effective means to use social media to generate new customers.
Creating content and maintaining a social media account can be a challenging and time-consuming task for start-up businesses. Even after putting in all the effort, it is hard to translate social media presence into business growth.
"Most businesses are on Facebook, hoping that each time they post it will ultimately be seen by current and potentially new customers. However, business owners have been shocked when we tell them that due to changes by Facebook the average post only reaches 2-4% of their followers. This means, without paid advertising, it is increasingly difficult to even reach your own audience and help drive new customers.
"Even if someone has 'liked' a page, it doesn't mean they actively recommend your business to their friends — they may have just liked it to win a promotion. Business owners have told us that they want to be able to identify those valuable customers that provide friend recommendations and then use social media to drive more referrals," said Cowper.
One business that understands this issue is Australia's largest share accommodation site, Flatmates.com.au. Its CEO, Thomas Clement, says he knows Flatmates.com.au has a very dedicated and passionate customer following for years, but until now has felt there are not many ways to actually heighten the impact of customer advocates.
"Current social media platforms aren't really providing ways for customers who love our brand, to tell their friends about us. Recomazing would help us leverage this significant pool of happy members and allow them spread the word about their positive experiences on Flatmates.com.au."
Unlike current anonymous review sites that open opportunities for negative feedback and the possibility of competitors writing falsified negative reviews, Recomazing was specifically set up to only feature positive recommendations from people in your social network. If a customer gets amazing service from a business then they can provide a recommendation; if they don't, they simply don't give it a 'reco'.
"Business owners are well aware that the majority of their new business comes from friend recommendations. In fact, 82 per cent of small business owners say the majority of their new business comes from friend recommendations.* What we are doing is helping them tap into social media to deliver this positive word of mouth at real scale," said Marc.
Creating a business profile and receiving recommendations is very straightforward and free for all businesses. Setting up a profile is free but start-up businesses that sign up today until June will also exclusively receive a free four month trial of Recomazing's premium package that provides insights into social analytics to help you understand how and where recommendations are spread, and which are delivering new business.
"Given we are a start-up ourselves, we want to help the community and provide them with a little extra. Start-up businesses can pop in the code "BONUS3366" when registering their business details for their four month free trial of Recomazing's premium package," said Marc.
Recomazing was developed to suit the needs of most consumer facing service-based businesses from start-up app creators and online site developers to personal trainers and hairdressers, through to larger organisations like banks and telcos.
Businesses can register for Recomazing, start their free business profile and access early bird offers by visiting www.recomazing.com. They will be able to ask customers for 'recos' and receive 'recos' from customers after its consumer launch in June 2015.
*SB Mantra Report 2013
The information contained in Media Release 'Antbites' is a duplication of content submitted to Anthill as a Media Release. Any organisation or person that submits information, using the Antbites form, is required to declare that all details are factually correct, do not infringe on another's intellectual property and are not unlawful, threatening, defamatory, invasive of privacy, obscene, or otherwise objectionable. Some Antbites have been edited for reasons of space and clarity.
Need to raise capital? Want to become a more persuasive presenter? Want to master social media? Is it time to overhaul your website? Unlock the library to get free access to free cheat sheets and business tools. Click here for free business tools.