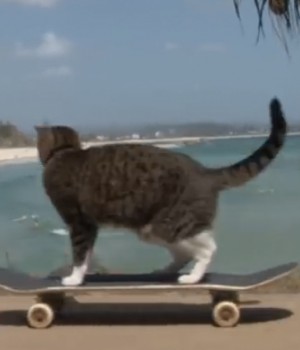 My daughter wanted to teach her cat to jump through a hoop for Christmas. Needless to say, the cat didn't want to do anything of the sort.
She tried bribes. She tried rewards. She tried pushing him through. The process of trying became akin to putting an octopus into a string bag.
But, it's not always the case. A dog (and cat) trainer from Coollangatta in Queensland has created a great piece of viral, content marketing that has made him an 'overnight' celebrity.
Meet Didga the cat riding his remote controlled skateboard. Yes, the skateboard has a name too, Ollie. The trainer, Robert Dollwet runs his own animal behaviour business and created a YouTube channel to show just what can be done.
I'm pretty sure Dollwet could get Nox the Cat to jump through a hoop, and then some.
In the last week, this skateboarding cat video has received just shy of 100,000 views on YouTube. It's yet another great example of content marketing working for a small business.
Cat Super Skateboarding Adventure! Go Didga!
[videoframe][/videoframe]