In this digital age, customer reviews are an important part of any online business. Not only do reviews impact your...
With more and more e-commerce sites appearing, customers are turning to reviews to determine where to take their business and as a result, review...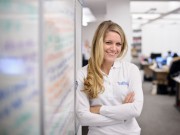 TruRating recently announced that it has raised AU$16.5 million in Series A funding, which will be used to further propel the company's expansion into global markets and enable TruRating to further develop new technology to provide additional value to consumers.
Online restaurant reservation company, Dimmi has partnered with iVvy, an online event marketplace, to fill thousands of unused Aussie restaurant spaces
Canva has unveiled its Canva for Work platform, which is aimed to enable individuals and organizations to create consistent, effective, and inexpensive graphic designs.
A Telstra survey of 1,000 SMBs found nearly three-quarters to be indifferent to the charms of Facebook, Twitter and the like, and 12% believing social media to be a business dampener.
There's this new phone app called Nosh that allows users to upload and share images and reviews of restaurant food. The next killer app? Not likely. But the smart, low-budget video that promotes Nosh is the best app ad we've seen in the long time.