OrionVM allows service providers to quickly and easily deploy cloud IT tailored to their goals.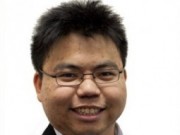 A co-founder of OrionVM, the developer the CloudDC platform, Yeo relishes the opportunity to beat the deep pockets in the industry at their own game. This year marks his third consecutive spot on Anthill's 30under30 list. And he isn't halfway through his twenties yet.
There's a good chance you've heard of this mystical thing called cloud hosting. It's not always easy to see through the hype, so it's no surprise that businesses have been hesitant to begin the journey.
If 2011 proves to be the year in which cloud computing transformed from a growing techie trend into an integral component of our wired lifestyles, Sheng Yeo and Alex Sharp will have had much to do with it. The two UTS mates co-founded Orion Virtualisation Solutions (aka OrionVM) in 2010 with a straightforward goal in mind: build the fastest cloud storage platform in Australia. Today, OrionVM competes among the fastest in the world.