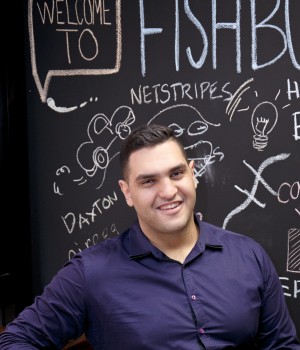 What is the 30under30?
30under30 is an Anthill initiative launched in early 2008 to encourage and promote entrepreneurship among young Australians.
Each year, we invite our readers to nominate young Australian entrepreneurs deserving of recognition for their outstanding entrepreneurial endeavours. More.
Riad Chikhani, NSW (b. 1995)
Name: Riad Chikhani
Age: 22
Known for: GAMURS
Riad is motivated to shape the future of gaming. Since the tender age of 14 he has been building gaming businesses with the goal to help gamers connect.
He founded his first business at the age of 14 and sold it at 17 before founding GAMURS in 2014 at the age of 19 and leading it to becoming the largest esports media business.
GAMURS serves the esports market by providing quality content and services to enhance their gaming experience, and inform them on their favourite games and esports.
"What drives the GAMURS Group team and myself is the passion of building the services which will connect and engage gamers globally," Riad told Anthill.
"We run the leading esports publisher with 2.6m+ unique readers, and our network overall reaches 3.5m uniques in less than 18 months. We've built traction for the business by establishing the leading esports media distribution network.
"We own and operate 10+ of the largest gaming/esports facebook accounts driving traffic organically every single month. We've also made 21 acquisitions to date," he went on to reveal.
GAMURS now has 3.5 million unique users, over 30 employees, 2 global offices, has raised $5 million in funding, raised 6 million monthly sessions, 250m social media impressions per month, 70m social media unique reach per month – all within 18 months, before Riad turned 22.
Anthill asks: Have you ever been lucky, punk?
I seized an unexpected opportunity when we acquired our largest competitor after they were silently being shut down. We negotiated an acquisition within 48 hours of them closing down. The acquisition was made for a great price, and the brand allowed us to put the company on a great trajectory. The brand originally was doing 300,000 unique users, it's now doing over 2.5 million in less than 10 months.
SHOW YOUR SUPPORT
You can show your support for this outstanding young entrepreneur in one of three ways:
1. TWEET THIS POST:

USE THE TWEET BUTTON AT THE TOP OF THIS PAGE.

2. TRIGGER A REACTION ON FACEBOOK:

HIT THE 'SHARE' BUTTON AT THE TOP OF THIS PAGE.

3. LEAVE A COMMENT:

SHOW YOUR SUPPORT! SHARE THE LOVE!