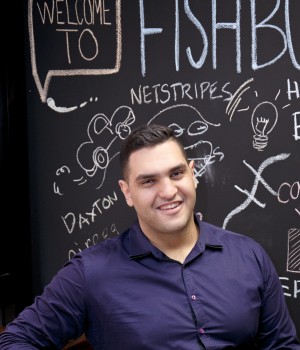 A self-described "massive gamer", Riad Chikhani fell in love with gaming when he was about four years old, when he touched his first ever Mario game on Nintendo.
A whiz kid from a young age, Riad built his first game by the time he was 12 by teaching himself Java and went on to teach himself PHP, MySQL, HTML and CSS at 14.
Now, at the 'ripe old age' of 19, he is about to graduate from the NRMA Slingshot Jumpstart accelerator program, where he has just closed a $350,000 round of funding from nine high net worth individuals within two weeks for his GAMURS site.
Say hello to 'Facebook for gamers'
GAMURS, whose beta version has been launched to the public, is pitched as 'the ultimate gaming social network'. Put simply: Facebook, but targeted specifically at gamers.
The platform aims to be a one-stop-shop for die-hard gaming enthusiasts, providing them with a place to connect with like-minded individuals about the latest and greatest games, read up and view the latest gaming-related information, follow high-profile gamers to see what they are playing, and compete against friends on points and achievements.
It is platform agnostic, supporting games on all platforms: PlayStation, Xbox, Steam, etc.
Riad said this funding will cover their operational costs for the next 15-18 months at least and let them focus on continuing to develop the platform, expanding their user basis, and building the scale that it needs to be viable.
He further revealed that they currently have a team of seven working on GAMURS, but are looking to bring on a lead developer and lead marketing person.
GAMURS co-founders Riad Chikhani and Halim Yoo (courtesy of Grant Turner)
About his business model, Riad told Anthill that for now, they are focusing on building the network, turning it into an invaluable resource and platform for gamers and growing the user base until they have the numbers to make it a self-sustaining community.
He says once they have reached the stage of building scale in the platform, they will be able to implement the same kind of targeted advertising that Facebook is using, but can be a lot more specific about the type of gamers that are being targeted.
"We can see, for instance, who was playing FIFA15 in the last hour, or who has played FIFA14, FIFA13 and/or FIFA12 before."
What motivated Riad Chikhani to build GAMURS?
Riad disclosed that the seed for GAMURS was first planted in his head when he was 14. "I was a little obsessed with a game called RuneScape and when I wasn't playing it, I wanted to talk to other gamers that were into it about it"
However, there wasn't anything around at that time that could let him do that, so he thought, "Why not make something myself?"
Riad taught himself to program, and built a site from the ground up called RuneGear using open source software. It really hit a nerve! At the site's peak, it was reaching close to five million pageviews a year, and had more than 16,000 members.
He continued gaming throughout high school but a few years later, while at uni at UNSW, he was no longer so into RuneScape, but still heavily into gaming.
Riad started thinking about how he could extend what he had built with RuneGear into a much wider community where anyone could interact about any game available.
A safe place where gamers won't be judged
He founded GAMURS because he felt that the generic social networks like Facebook and Twitter weren't well-suited for gamers – that there's something of a negative connotation to posting about your all-night gaming sessions to the general public.
"Most people view it as a mindless activity that rots your brain and doesn't contribute anything positive to your personal development," Riad explained. "And yet the fact is that gaming has been proven to offer a variety of cognitive, emotional and social benefits."
"While gaming has traditionally been thought of as quite a solitary activity, the explosive growth and success of online multiplayer gaming and mobile social games has proved that gamers are actually quite social creatures," he went on to point out.
"But if you constantly post about the all of the games you're playing or the levels or challenges you're having difficulty with, the reality is that you're going to be viewed as anti-social, or as someone that doesn't have anything better to do."
"Sadly, I don't see this misconception changing anytime soon," Riad stated. "GAMURS offers gamers a "safe" place to go where they can connect with like-minded people."
How did Riad Chikhani build GAMURS?
Riad spoke to a lot of peers and surveyed around 1400 people, and from there discovered that plenty of people were finding the same issues, i.e. the difficulty in connecting with other gamers on a broader platform, and the stigma associated with posting about gaming in generic social networks like Facebook.
He got 60 per cent of the people who answered the survey to join the GAMURS community.
He started building the GAMURS platform in late 2014 after he had been at uni for a couple of years, developing and shaping it based on regular discussions with members.
Riad says the Jumpstart program taught him to look at things in a different way when it came to developing GAMURS.
"Before I entered the program, I had a specific business model in mind, but I started thinking differently about the business once Jumpstart commenced," he revealed. "We ended up reconstructing everything from scratch and building the platform again."
"While being an avid gamer certainly gave me a lot of insight into this market, this didn't translate to the business side of running a start-up – and there was certainly a lot for me to learn in that regard!"
Riad added that another thing Jumpstart really helped him with was raising capital. "I had no idea how to go about doing something like that before I was in the program."
"NRMA and Slingshot were able to guide me on how to go about raising capital, what I should use the capital for, how to budget correctly, and also how to know my way around the start-up and investment worlds – both of which are quite complex to navigate for the seasoned businessman, let alone a 19-year-old uni student!"