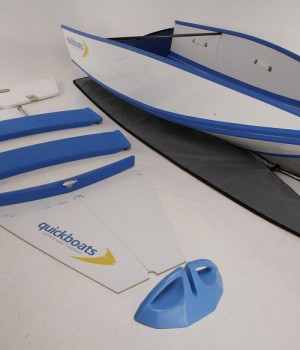 Imagine this: a flat-packed boat which easily fits on any car's roof racks. There's no need for a costly and space-consuming trailer. It can be assembled within 60 seconds and be launched from anywhere with water. And when not in use, it can simply be hung up on a wall or, placed on a shelf.
Does that sound a little far-fetched? Well, this is exactly what the Australian company; Quickboats is delivering with its revolutionary Quickboat. "No more mooring, no more maintenance, just sheer marine pleasure," they promise.
What is the history of the Quickboat?
WA inventor and charter boat captain, Gavin Ager came up with the original design of the Quickboat in 2001 and patented it in 2005. In 2006, it was purchased by aerospace company Quickstep Holdings, of which Quickboats MD Deryck Graham was a director and founder.
The boat entered ABC TV's New Inventors program, winning the episode prize. However, between 2006 and 2012, plans to further develop the design and sell it commercially were shelved as Quickstep focused on its core business of aerospace engineering.
In April 2012, Deryck Graham left Quickstep, purchased the rights to the boat design and Quickboats was born. By September, Quickboats had raised over $1 million with the help NKH Capital and $65K in crowd-funding from Indiegogo. In fact, Quickboats was named in the top 12 products on Indiegogo for 2012.
In May 2013, the first prototype was delivered with testing and refinement to follow to July. In total, four more prototypes were developed and delivered to Australia. Quickboats was finally officially launched at the 2013 Sydney International Boat Show in August 2013.
How has the Quickboat been received?
Three weeks since its launch, 1,200 individuals have signed up for the buyer waiting list and over 100 enquiries have come through from potential distributors all around the world.
The Quickboat has also kicked up a storm in cyberspace, gaining over 65,000 views on the Quickboats Youtube channel and 22,000 unique visitors to the Quickboats website.
How does Quickboats operate?
Quickboats sees their Quickboat business model as being as important as the revolutionary design that makes the boat fold flat. Never before has a company been able to deliver a boat to a customer's front door anywhere in the world and ship 100 boats in one 40-foot container for only A$30 per unit.
Leveraging cloud computing, their operations are based in Perth and despite the huge results already achieved, there are only three full-time employees in Quickboats: Deryck Graham (Managing Director), James Graham (General Manager) and Danielle Smith (Office Administrator) with a further two expected over the next six months.
The rest of the "team" consist of 28 contractors scattered all over the world from Thailand, to Ireland, to Amsterdam, to Sydney. Commercial production will commence in September with the first boats to be delivered in October 2013.
See the Quickboat being assembled below …or should I say transforming?
[videoframe][/videoframe]