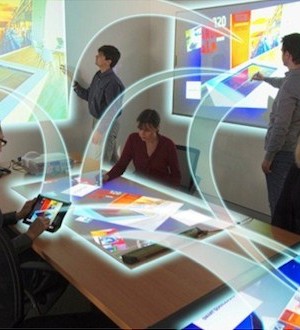 Cruiser Interactive, the new spin-off company of Smart Services CRC, has released an innovative software platform that basically turns walls, tables, whiteboards and smart devices into touchscreen networks for group collaboration.
Developed by Smart Services CRC from research by the University of Sydney, Cruiser is set to cause ripples in whatever sector that involves group collaboration and visual planning.
Advertising, marketing, property development, architecture, design, government, town planning, defence, education, emergency response, you name it.
Cruiser allows users to flick information from any surface (personal smart devices, tablets, tables, walls and whiteboards) to any other surface located anywhere in the world for dynamic group discussion.
Participants can annotate images and video; resize, manipulate and copy media files; contribute additional content; and share and work on information with any number of colleagues anywhere in the world.
No, you are not reading a sci-fi movie script…
How Cruiser can be used in business
Dr Anthony Collins, Product Leader of Cruiser Interactive, said Cruiser "will literally open doors to business and create a deeper understanding of whatever is being discussed or sold to a prospective buyer".
"The technology is also ideal for staff collaboration, design and brainstorming.  For those working in marketing or advertising, who brainstorm on a regular basis, Cruiser is a great way to share thoughts and visuals with each other or their clients," he added.
How has Cruiser been received so far?
The platform was debuted at the recently concluded Connect Expo 2014 in Melbourne and has already been adopted by clients such as Victoria Police, Mondelez, Jumptank and Colliers International.
Patrick Higgins, Manager, Property Management Group at Victoria Police commented that the software was the most advanced touch interface he had come across.
"We've actually established a Cruiser facility at Victoria Police where staff can come together and collaborate on different aspects of building maintenance and property management as a team. We have 800 properties to manage, so this is an amazing tool for us," he said.
Mark McKenzie from Colliers International remarked that the Cruiser technology delivered new opportunities for innovation in group presentations.
"In the residential property industry, we work with clients from around the world, so using such a visual and interactive format helps us to overcome potential language barriers and communicate successfully. And of course, young people who are familiar with touch screen technology love it," he said.
See Cruiser in action!
[videoframe][/videoframe]