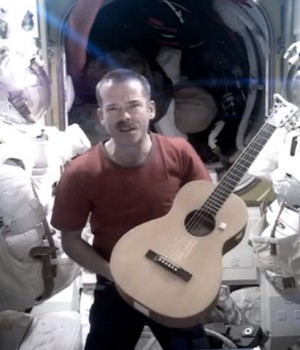 Back in 2013, we told you about how one Canadian astronaut, Commander Chris Hadfield managed to get the world interested in what was happening in outer space using his remarkable social media prowess.
In just five months, he amassed 850,000 Twitter followers and created several sensational YouTube Videos. Chris went on to record the world's first music clip performed in space in which he played and sang a famous ballad aboard the International Space Station and it was none other than David Bowie's Space Oddity.
It was an instant viral hit, reeling in almost three million views in less than a day. Bowie himself even praised the cover, calling it "possibly the most poignant version of the song ever created."
However, the video was taken down from YouTube after reaching more than 23 million hits as Chris had a one-year agreement with Bowie to leave the video up after it was released in 2013.
Then late last year, Chris inked a new two-year agreement with Bowie to have it back up and it's already nearly at 30 million hits.
Here it is in all its glory. Rest In Power, David Bowie.