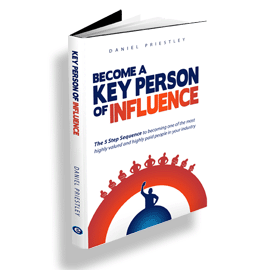 Do you want to turn your existing skills, talents and experience into a profitable business? [LIVE FULL DAY EVENT]

Learn the Five Step Sequence to becoming a Key Person of Influence and become a highly valued (and did we mention highly paid) person in your industry. Learn from five inspiring minds.
Melbourne: 1 June 2013
Sydney: 6 July 2013
Brisbane: 31 August 2013
Anthill Price? Click here!

Ian Elliot – Australian Advertising Icon

Ian Elliot spent 30 years at George Patterson Advertising, rising from mail boy to CEO and Chairman. George Patterson were Australia's largest Advertising Agency throughout this period and voted "Agency of The Century" in the middle of Ian's CEO term. He was responsible for developing the Optus Brand Strategy, including the still highly successful "Yes" campaign.
He has adapted his pitch winning skills to apply to every business, big or small and documented the tools in the best selling Book 'Stop Bitching, Start Pitching'.
Marc Johnstone – Silicone Valley VC Veteran

Marc co-founded his first company at 29 in the financial services industry and upon partial sale left to join Shirlaws Coaching in 1999 – its foundation year.
Shirlaws is now established is six countries, with 160 coaches and has clients across thirty seven countries.
Andrew Griffiths – Australia's best selling small business author

Acknowledged as Australia's #1 Small Business Author, Andrew has eleven books that are now sold in over fifty countries. His bestselling books take complex ideas and make them practical and simple. Andrew's latest book,
The BIG BOOK of Small Business, is a culmination of his extensive work to date in the Small Business arena.
Andrew is also an energetic and engaging keynote presenter. He draws on his own life experiences and big sense of humour to deliver powerful messages in an engaging and authentic way.
Andrew presents on a diverse range of topics including business success, business evolution, being a professional presenter, writing bestselling books and personal growth.
Kylie Bartlett – The Untapped Opportunity

Better known these days as The Web Celeb, Kylie Bartlett is an international public speaker, a published author and a successful business woman.
She is dedicated to helping entrepreneurs create social buzz, build a brand and get celebrity results in their business.
Kylie teaches business owners how to use the latest web techniques, tips and strategies you can use to generate more traffic and make more money.
Daniel Priestly – Author of Becoming a Key Person of Influence

Event producer, seed capitalist and technology entrepreneur. Best selling author of Becoming a Key Person of influence and creator of the 5 steps.
Daniel Priestly shows you how to stop being a worker 'bee' and explains exactly how to get into the inner circle of any industry, fast!
Register today to get the Anthill rate!