Frollo, a company based in North Sydney, has developed an app – also called Frollo – that analyses your bank transactions and recommends ways for you to spend less and save more. Think of it as a budgeting app on steroids.
Frollo has a B2C offering (free app on iOS and Android app stores) and B2B offering (white labelling the app to financial companies).
Founder and CEO, Gareth Gumbley revealed to Anthill that he and the team worked on Frollo for over a year before launching the product.
What is the story behind Frollo?
After years of running technology-focussed businesses in consumer finance, Gareth realised that no one was delivering on their branded commitment of actually helping consumers.  Banks were focused exclusively on product profitability to the detriment of consumer outcomes and lacked transparency.
In Gareth's initial research, he couldn't find a bank that proactively told customers they weren't on the best product. Nor could he find a telco, insurance company or utility company that did that, either. So he decided to build a purpose-driven organisation with the right people and culture.
After having this epiphany, Gareth immediately rang Edd Smith – who is now Frollo's Chief Technology Officer – to come and join him. Edd and Gareth had worked together in fintech startups for many years. Edd immediately saw the vision, and rushed to put an ad online to find an iOS developer. Amongst hundreds of applicants, they found Nick Dawson, who joined Frollo's founding team.
Frollo's vision is to help people get ahead with their finances. The founding team believed it could create a platform based on financial transaction data and consumer engagement that learned the best money habits. By integrating a community feature within the platform, the team felt that it could help to get consumers working together to change their behaviours and achieve better financial outcomes.
What problem is Frollo aiming to solve?
The lack of financial literacy was a big problem that Gareth was keen to tackle.
"Kids are required to grapple with complex math subjects in school, and yet the simple concepts behind budgeting and financial planning are overlooked. It's no wonder Australians have so much difficulty balancing the books later in life. The latest debt ratio data released by the RBA shows that Australian households' debt levels have hit another all-time high, with the ratio of household debt to disposable income at 189%," he highlighted.
"While there's a wealth of information available on the internet around financial planning and debt management, it's either generic (in which case end users have to figure out how that information may or may not apply to their specific financial situation) or geared towards recommending a particular company's products or services."
Gareth's goal is to solve these problems with Frollo. By offering a personalised experience for every user and making the budgeting and financial planning process as frictionless as possible, they are essentially getting their own financial companion within an app – one that won't judge them for any poor spending decisions they may have made. The other key difference with the app is that it's able to customise a user's budget to suit their particular goals and challenges.
"There are other consumer-facing personal finance apps on the market, but none of them go to the lengths that Frollo does to inspire its users to save money and achieve their financial goals. Frollo is the only financial app with a built-in community, which recognises that changing behaviour is often easier when you can share the experience with other, like-minded people," Gareth said.
"It's also the only app of its kind that offers personalised insights for financial products that are tailored to each users' situation. Finally, it's the only white-label solution currently available for financial companies who want to bring a customer engagement platform to market quickly."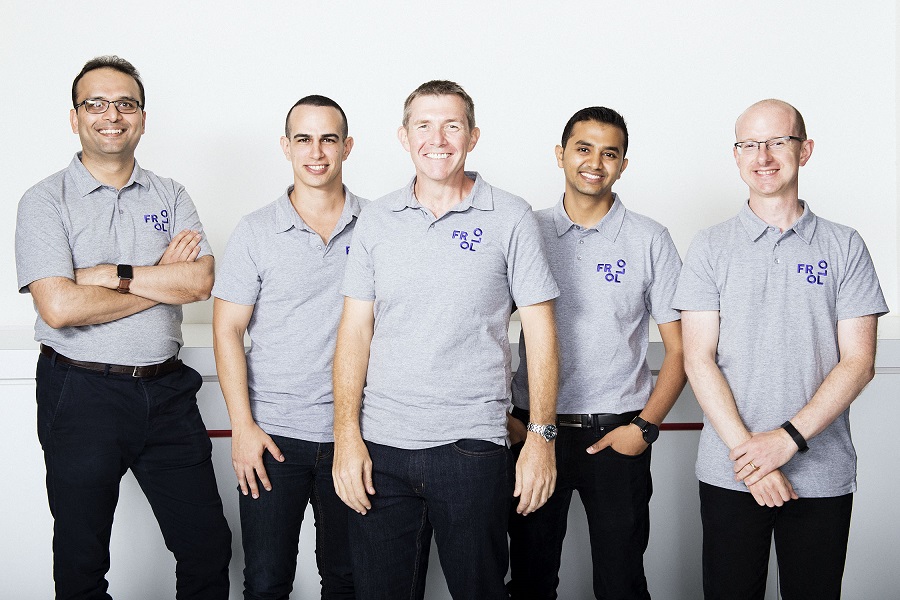 How did Gareth Gumbley develop Frollo?
"The basic budgeting functionality was a given, but it was the additional, value-add features that would set Frollo apart, and to figure out what those needed to be, the team did some customer and market research," Gareth told Anthill.
"One of the main findings that came out of this research was the fact that people were interested in how other people like them were getting ahead in their finances. This insight formed the foundation of Frollo's community challenges feature, which is a first for personal finance apps in Australia. This feature enables users to partake in financial challenges against other Frollo users, such as opting for public transport for a month instead of using Uber, or eating at home instead of eating out."
Gareth and his team were also inspired by the fitness tracking movement. With the widespread interest in step-tracking platforms like Fitbit, they wanted to see if they could build a similar product that tracked a user's "financial fitness".
Gareth knew that building something that would have impact and at scale would take all of his passion and energy. Following a previous exit Gareth bootstrapped the first year until he signed the first white label customer.
He went on to reveal that one of the key challenges in getting Frollo off the ground was much the same as any early stage startup – getting enough funding to scale the business.
"It was important early on that the product was validated and that we had a solid business plan in place for commercialising the product," Gareth explained.
"The solution was offering a white-label service that enabled companies to customise the Frollo app with their own colours, branding and additional tailored features. This was identified as a big, untapped opportunity for Frollo to work with other finance companies, offering a market-tested solution that was far more affordable and significantly faster than developing a service from scratch."
How is Frollo doing so far?
It has been a whirlwind two years since Gareth initially built the wireframes of the app. Initially, it was a major milestone to get the first version of the app into the iOS App Store, which happened 12 months ago. Since then, there have been many big and small wins, including billions of dollars on the platform, launching on Google Play, signing up two B2B partners to develop white-label apps, and also being featured multiple times on 7 News.
Frollo is also currently working with two partners to create a white-labelled version of the app, and it has a number of other deals in the pipeline.
Gareth and the team recognised that getting the funding model right was important from the get-go.
"Choosing the right banking and financial relationships that would have the maximum impact guided every partnership decision that we made, and it was important that values and goals were aligned with any business we got into bed with," Gareth remarked.
"For now, much of the investment opportunities into Frollo are in-bound, but we plan to begin exploring more outbound opportunities in the coming weeks."
Need to raise capital? Want to become a more persuasive presenter? Want to master social media? Is it time to overhaul your website? Unlock the library to get free access to free cheat sheets and business tools. Click here for free business tools.