Home
Tags
Black Sheep Capital
Tag: Black Sheep Capital
Investing further in GO1 was a no brainer. GO1 is the perfect example of a startup who absolutely gets it and is poised to grow rapidly all over the world into a leading provider of learning and management platforms.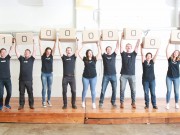 Sendle is levelling the playing field for the 90 percent of Australia's businesses who operate with less than 10 employees. Since launching over a year ago, Sendle has clocked 100 million kilometres of 100 per cent carbon neutral parcel delivery.
Brisbane's top co-working community and start-up hub, River City Labs, has announced its imminent plans to double in size within the next, six months.