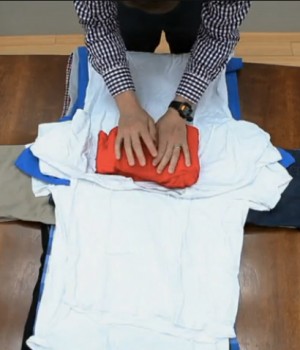 I went to boarding school. I can pack more stuff into a small bag than most people can believe.
I can minimise the creases but somethings always seem to come out a tad crumpled looking.
My next trip will be to speak at a conference. Which will mean I have to gussy up a bit before striding on to stage. I also loathe ironing.
So, what to do? Then, I stumbled upon this video on NBC News that shows how to 'bundle pack'. And, by crikey, it looks like it will work. This is the ultimate hack for packing.
You basically wrap your clothes, layer by layer until you have one big bundle you can put into your suitcase. Just don't put your deodorant or umbrella in the middle if you're planning on taking your suitcase as carry on. Because, there is no way you'll be able to unwrap and re-wrap at security.
If you're a frequent traveller for your business, this video may be the most useful video this week that will save you time pack and, better yet, ironing at the other end of your journey!
Carry On: How to pack like a pro
[videoframe][/videoframe]
Need to raise capital? Want to become a more persuasive presenter? Want to master social media? Is it time to overhaul your website? Unlock the library to get free access to free cheat sheets and business tools. Click here for free business tools.