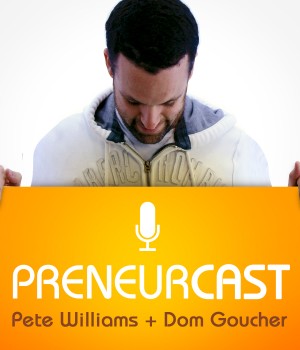 Marketing podcast, PreneurCast, is for entrepreneurs, by entrepreneurs. Each week, author and marketer Pete Williams and digital media producer Dom Goucher discuss entrepreneurship, business, internet marketing and productivity.
Continuing the series on Foundations, in this episode Dom talks about valuing your time. This is both about making sure you make the most of your time, and get maximum leverage from it, and also about charging an appropriate amount for your services.
Dom talks about making the most of your time and leveraging from it
Transcript:
Read it now.Hide it.

Links
Online:
http://davidseah.com/productivity-tools/– David Seah's site about productivity
Books:
Brian Tracy on Amazon – Brian Tracy has written a huge number of books on the subject of time management and productivity
Previous PreneurCast Episodes:
Episode 026 – Outsourcing
Episode 044 – Outsourcing: Core vs Mechanics
Episode 052 – The 7 Levers of Business Redux
Never Miss an Episode:
Subscribe to the show on
iTunes, Stitcher
or
RSS.
Love the Show?
Please take a minute to show some love via a comment or review on either
iTunes
or
Stitcher.