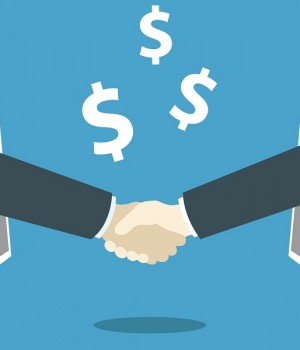 The wholesale trade, retail and construction industries are turning to non-bank business lenders when seeking funding, according to a survey conducted by loan matching app eBroker.com.au.
"The wholesale trade industry has the highest demand, followed by construction and accommodation & food services. Retail trade and transport held the fourth and fifth place respectively," said Mr Simon Isaacs, CEO of eBroker. "It's no surprise that wholesale trade has the most demand for credit given that it's the first link in the supply chain to retail, and retail itself has real issues.
"At the moment bricks and mortar retailers are being squeezed by online competitors, and the uncertainty of the election year. They're taking longer to pay suppliers, which explains the demand for cash flow loans amongst wholesale traders.
"This is a leading indicator of future problems hitting retail. In this sense, wholesale trade is the 'canary in the coalmine' for a very distressed retail sector.
"If things don't improve, I'd say we're looking at significant job losses in wholesale later this year and in retail early next year."
What did the survey find?
The survey found there was also strong demand for non-bank credit from the construction industry, which Mr Isaacs said is in response to the cycle turning there.
"Most reports indicate an oversupply of units in Brisbane and Melbourne, and the Australian property market cannot defy gravity for much longer. Banks have gone very cold on this sector, typically a strong indicator on what's to come.
"Many businesses can't get credit are now turning to non-bank lenders to get them through this period of transition.
"It's an ominous sign for construction firms that the banks are pulling back on lending to them. Time will only tell if this only compounds future bank losses in this area," said Mr Isaacs .
The inaugural eBroker Non-Bank Business Lender's Survey found the average loan size was $95,104 and the average loan term 20 months.
A total of 75 per cent of the 29 lender CEOs who participated said that the demand for credit products was 'increasing' or 'strongly increasing' and no one in the surveyed group felt a decrease in the demand for their credit products.
Isaacs CEO said although the survey data confirmed the rapid growth of SME demand for non-bank business credit, more lenders have 'scaled' faster than he had anticipated.
"It was surprising to learn that nearly 15 per cent of lenders were receiving 2,000+ applications per month. These results indicate the non-bank business lending sector is thriving, and that some providers have achieved critical mass," he commented.
The industries with the least demand for credit products were agriculture, forestry, and fishing; public administration and safety; health care and social assistance; mining; and electricity, gas, water and waste services.
An infographic from the eBroker.com.au survey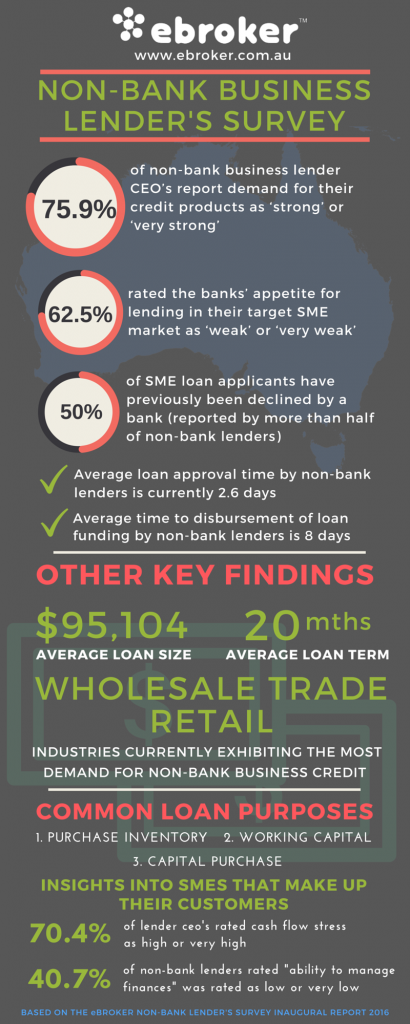 Need to raise capital? Want to become a more persuasive presenter? Want to master social media? Is it time to overhaul your website? Unlock the library to get free access to free cheat sheets and business tools. Click here for free business tools.