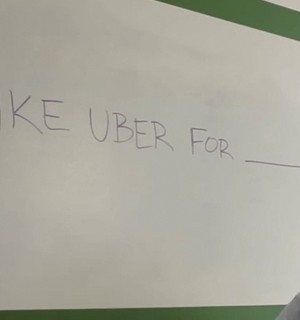 Every time one of the big dotcom players raises some mega bucks or gets bought for a zillion dollars, it becomes the analogy du jour.
For a while there, every startup was going to be the Pinterest for fishing or, maybe the Summly for supermarkets.
Right now, Uber is the business model do jour. And, fair enough. It is disrupting an industry that was ripe for change. Both drivers and passengers needed a different service. Plus, it's most recent $1.2 billion capital raise has valued the business at $17 billion.
And, since then other businesses that have raised capital have been referred to the 'Uber of…'. For example, Handybook, founded by my old boss at AOL Steve Case, has raised $30 million and has been described as the Uber of Household Services. Really.
I'm all for using analogies to tell a story, especially when you're pitching your startup idea. It can help business partners, investors and even customers understand what you are doing.
But, please, make the analogy worthwhile. Make it relevant. Make it contextual.
If you don't you will end up sounding as crazy as the CEO of my favourite parody startup, Vooza does in this video.
It's like Uber for….
[videoframe][/videoframe]