Not your average bike brand, Just Ride It's flagship retail store in Melbourne's popular Fitzroy, has become famous for its innovative approach to custom build bikes synonymous with a 'ride it like you stole it' street attitude.
With its striking graffitied interior on Brunswick Street, the store has become the destination for bike lovers looking for a 'tricked' up custom design, better tailored to their personality.
The business, whose revenue has skyrocketed on the back of a global 'street riders' trend, will open its first international retail store in London, this month.
An online store from Manchester in the UK, has already been servicing the rest of Europe. Forward projections put company turnover at $2.5 million and 400 per cent growth in the coming 12 months.
"We've worked hard to streamline our processes and spent months in product development ensuring the product is right before we grow too big. The time has come to launch into key markets around the world," founder Steven Atkinson said.
What exactly does Just Ride It do?
A cheeky, sexy approach to bike riding, Just Ride It is the answer to cycling's growing anti-lycra mentality and a product specially reserved for the everyday rider that wants to 'roll' their way to the pub or work in complete style.
Steven boasted that his business is building bikes only dreams are made of for the everyday rider.
"People are starting to really subscribe to the fact that anything is possible and we can and will create a bike from your wildest dreams. There is nothing you request that we can't make."
"We are the only bike brand in the world to offer free lifetime servicing and at the same time we look and provide a service like no other," he went on to highlight. "We think differently and solve cyclists problems and meet their needs."
A passionate bike rider, with a long history of downhill racing and BMX in his younger years, Steven understands that fixie and road bike riders want to be different, want to stand out, and want their bike to be unique.
As his third successful venture, Just Ride It has become a fast growing brand under Steve's direction and is testament to his defiance of the status quo, the brand's no mess-about approach and ultimate 'ride it like you stole it' slogan.
How is Just Ride It doing so far?
Having opened in 2011, Just Ride it is a favoured brand among sports celebrities, having supplied bikes to the likes of Valtteri Bottas (F1 driver), Brendan Goddard (AFL player), Soa the Hulk (UFC Fighter), Broadie Summers (Olympic skier), as well as supplying customised builds to brands like Adidas, Levi's, Audi, Coca Cola, BMW, Crown and Jack Daniels among others.
It is also whipping up custom designs for local Melbourne businesses, including, Crown Casino, Ms Collins, Affinity Health, Duck Duck Goose and the Rum Diary Bar.
Globally popular from the Just Ride It range is the T5 Street Bike, built in celebration of the brand's recent five year anniversary. The bike has received 10/10 reviews for look and performance and a five star rating from customers the world over.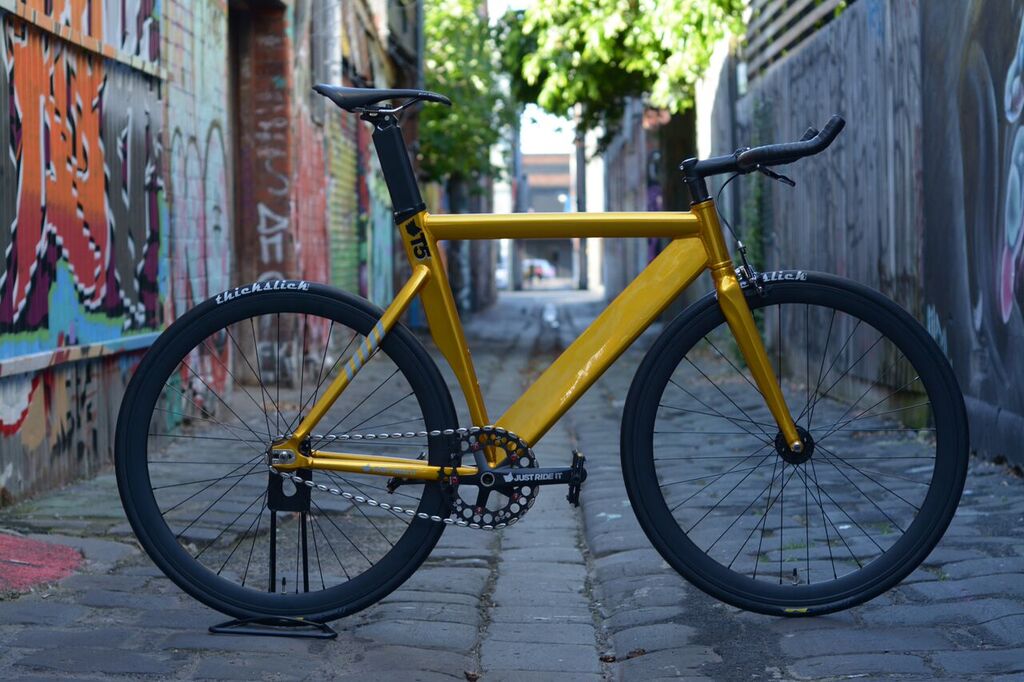 Its featured gunmetal decals, compound brake pads and sleek matte black design have proven a hit with customers having sold over 200 in its first month of sale.
"After building over 5,000 stunning custom bikes, the Just Ride It crew got together for a celebratory build. But not just any old build. The T5 is the result of everything we know, all in one bike. It's strong but lightweight. It's a mean looking ride that's also a comfortable commuter," said Steven.
The bikes featured online and in store are a billboard for inspiration and Just Ride It has access to a vast array of brands and products. The team is committed to offering the best service possible and offer free, servicing for the life of the bike.