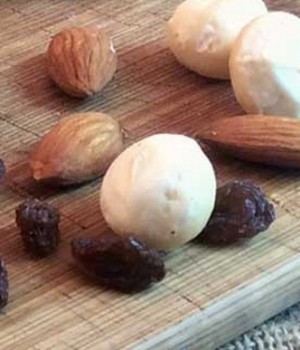 A successful example of creating the niche as opposed to jumping onto the bandwagon, Simply Raw's Janine Zappini-Rosa and Sebastian Rosa entered the raw healthy food market well in advance, before it became a craze, starting their business back in 2011.
The couple quit their big respectable corporate jobs to chase their dream.
Janine, who was a business analyst for Jan Cameron's Retail Adventures for two years until January 2012, felt her board reports were ignored and that her colleagues were "treated like numbers" as the giant teetered towards collapse.
Pioneering a niche…
She channelled all she had learned into Simply Raw, a start-up she had co-founded with her husband Sebastian back in October 2011 aiming to provide healthy alternatives to the highly processed food products on the market, after her mum got sick with an illness caused by food intolerances.
"I made it my mission to develop pure and healthy alternatives to most processed food products with a focus on quality, flavour and nutrition," she told Anthill.
"A product range that caters for all types of dietary restrictions, from gluten and lactose intolerance, to nut allergies, no sugar and plant based diets, free of GMO and preservatives, made with love."
Then 26, Janine would spend her weekends baking organic desserts in the small kitchen in the couple's Bondi studio apartment, selling them at markets and door by door at small retailers.
Her husband, a fashion designer and self-described "jack of all trades", customised a sheet metal fabricator that allowed Zappini-Rosa to produce a consistent, 50-gram bar from home.
Simply Raw co-founders Sebastian Rosa (L) and Janine Zappini-Rosa (R)
…and excelling in that niche
The pair quit their jobs and a year of testing and refining, and growing distribution through cafes and health food stores, ensued. They began approaching retail stores with their raw food bars and took the health world by craze – they are now stocked in more than 1000 stores nationally and are already turning over a multi-million dollar annual revenue.
About the many competitors they now have, Janine said, "Most other 'healthy' snack foods feature an endless list of questionable ingredients such as chemical additives, high fructose syrups and hydrogenated oils, only covering certain food requirements without satisfying consumers demand for nourishing food."
"Not to mention the perception of consumers thinking 'healthy' food doesn't have to taste good," she added. "We are aiming to provide it all in one product."
One of the Simply Raw products: Coconut Rough Raw Superfood Bar
Since March 2013, Simply Raw Superfood Bars are now produced in a production facility in Sydney and they now have a great investor on board who specifically chose the couple because of their organic growth – literally starting from nothing!
As far as what they would have done differently, knowing what they know now, Janine told Anthill that would have loved to have access to an advisor/industry expert – someone that could have thrown a few wise words their way.
"The food industry is one of the most secretive and most challenging industries I know," she revealed. "It definitely would have made a difference for our business growth."