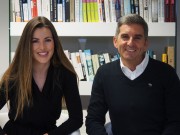 The Series B investment will enable Expert360 to carve out a bigger slice of the $600B global consulting industry by offering a host of new features and functionality for both clients and consultants, as well as continued international expansion.
IT and consulting giant Infosys recently launched its knowledge-based artificial intelligence platform Mana, designed to drive automation and innovation
Start-up FlexCareers, a fast-growing network connecting career mums with progressive employers offering flexible work, has formally launched out of beta
According to an article in The Australian: Fairfax Media should axe its Melbourne and Sydney daily print editions and focus on e-readers and online to boost earnings. Macquarie analyst Alex Pollak suggests Fairfax could get the ball rolling by spending about $50m to give away 100,000 e-readers to seed the migration of readers away from print.
In this podcast, Simon McKeon, executive chairman of Macquarie Bank and chairman of CSIRO, talks about his vision for CSIRO and the status of scientific research in Australia, its problems and its promise for Australia's future.
Australian private equity firm Allegro Private Equity, last week, announced it had launched a new fund, Allegro Fund II, to raise more than $200 million to invest in the growing number of smaller mid-market private equity opportunities emerging in the post-GFC environment.