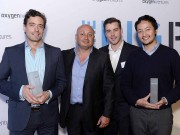 Last night, Federation Square in Melbourne was host to five eager startups vying for the attention of the crowd of over 300 and, The...
Whether you know him as the one behind Native Tongue, WeTeachMe, iPlanking or dozens of other projects, Kym Huynh, 28, has always bubbled with creative ideas by turns empowering, uplifting and playful.
As a native English speaker, Matthew Ho was once frustrated by his attempts to learn Mandarin. This week, he's in Beijing showing off just how fun and addictive the language can be. Ho and his startup, Native Tongue, have been promoting Mandarin Madness, an educational gaming application, at TechCrunch Disrupt Beijing.
Kym Huynh believes firmly in the idea of the Renaissance Man. He's a lawyer and a professional singer. He hosts three podcasts and manages several more. He's also behind a chain of humourous photo blogs. Of course, that's when he isn't promoting his startup ventures. For all of his accomplishments, he's taken to knocking himself: "I lead goofily and still appear to be legit."
WeTeachMe is the brainchild of a diverse fivesome – Kym Huynh, Demi Markogiannaki, Martin Kemka, Rowan McSweeney and Cheng Zhu, two of whom are immigrants. Hyunh is a serial entrepreneur, Markogiannai, a Greek, is crazy about the arts; Kemka has an insatiable curiosity about the world; McSweeney, of Irish heritage, is the marketer with a love for Turkish delights; and Cheng is the group's code Ninja. Together, they want to change the world we learn, and share knowledge -- kind of like the Spice Girls but with better shoes.