Exploiting a router in place costs ways less than intercepting a shipping truck in the middle of the night and is much more scalable. Attackers can now own the entire Internet.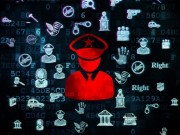 Cyber espionage and cyber terrorism are the most critical threats facing the public and private sector in the United States and the United Kingdom, and there is no reason to suppose that Australia/New Zealand will not be future targets.
Facebook has so many marvelous uses. It allows us to keep in touch with our agrarian roots (yay, Farmville!). It shores up our faulty...
In the wake of the recent Tucson shootings - which saw six dead and 18 injured - WikiLeaks has called for prominent US media personalities to be held accountable for inciting violence. In typical balls-out fashion, the activist organisation offered its condolences to the victims of the shooting, while at the same time aligning the incident with its campaign on sister site, PeopleOKWithMurderingAssange.com.