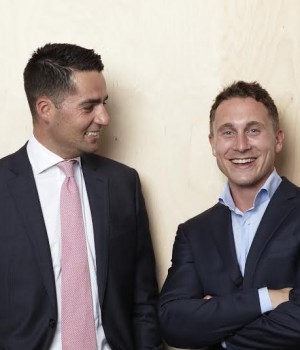 SpotJobs is a company that easily connects would-be employers with would-be employees, minus all the pomp and circumstance of traditional job marketplaces.
Co-founders Lewis Romano and Jake Williams started SpotJobs in their mid-20's just two years ago after Jake couldn't find a job to save money for schoolies. So, he approached Lewis Romano at the Emirates Marquee where SpotJobs was ultimately "decided upon".
In operation for just 18 months, the company has reached the status of the third-ranking jobs board within Australia according to Experian Hitwise statistics and have reached 750 000 Australian registered users. They have gone on to acquire some of Australia's richest investors, have acquired the capital to spend big on programs such as sponsoring Big Brother, outdoor advertising, and TVC's, and have landed some top retail clients.
Recently, Anthill Online had a chat with Lewis, and here's what he had to say.
1. What's the SpotJobs origin story?
The idea of SpotJobs was born through Jake Williams' experience as a school leaver looking for work to make money for Schoolies. Expecting to find a a convenient job board that would have work close to home on a casual basis for a few hours a week, Jake nevertheless learned there was no such jobs board in existence. Lewis Romano reconnected with Jake Williams at the Emirates' marquee in Melbourne (After attending school together) where Jake voiced his idea. They set off on the SpotJobs journey, determined to fill the glaring gap that existed in the online job board market.
2. Why do you think SpotJobs would appeal to a company like, say, Apple for staffing?
SpotJobs appeals to a company like Apple because of the amount of dedicated registered users they have access to. SpotJobs currently has 750 000 registered users, ALL looking for entry-level positions meaning they are quality and targeted.
3. How do you see the company growing in the short term?
Stepping forward to a fully-fledged business we're now focused on selling every day to our customers and showing the value of how we can assist their organisation. We are now considered the 3rd largest jobs board in Australia, and the #1 dedicated to entry-level positions. Although we'd like to essentially expand we are currently focused on remaining in the #1 position!
4. A classic jobs quest question: where do you see SpotJobs in five years?
We see SpotJobs in five years in having expanded not only our huge client list by a vast amount, however also our registered users. Our users are what gives our business most value as this is what our employees look for! Quality options for them to choose from. We're also looking at expansion plans so hopefully in a new country somewhere sharing job opportunities!
What do you think?
The jobs board space is one that's known for making things a tad complex. Does a model like that of SpotJobs succeed in making the process more intuitive for hiring managers and jobseekers alike?