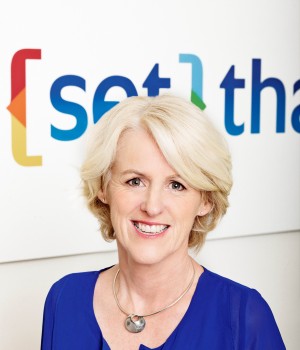 Think this whole online entrepreneur thingy is the domain of the young starry-eyed ones?
Think again.
Liz Tehan wants to set the record straight with Set That,and prove that in the online world, age has got nothing against good-old smarts and perseverance.
Setting an example for the world
Set That is an online social shopping hub that Tehan started at age 54, with little experience in neither building websites nor retail. She's no fumbling beginner in the world of business though. Prior to Set That, Tehan has had more than 30 years of work experience. Her time as a consultant to major organisations allowed her to learn about a variety of different business models and structures.
As for the online part, it all boiled down to pure perseverance and seeking support from the right network of like-minded people. Liz revealed that in this respect, age could have worked to her advantage. There was no need to maintain an image of being tech-savvy, and people were more than willing to help.
Set That has now attracted about 70,000 visitors since its launch in 2013, and is starting to gain a loyal following of shoppers and stylists.
" I like to think I am an example of what can be achieved by older women if they set their minds to something. Even if you think that you don't know enough about technology, or social media, or finance, you will find that there are people willing to help you when required," says Tehan, who is now keen to share what she has learnt with others of her generation and encourage them to take the digital leap.
Shopping that is actually inspiring
Set That creates an engaging social hub where stylists can share passions and create trends. According to Tehan, the platform aims to eliminate traditional retail barriers like geography, traffic and crowds, to make shopping more effective.
"Because you can buy what you see from the inspirational styling of others, it is ideal for the inexperienced or hesitant online shopper. And the person who has inspired the purchase is rewarded by us with a share of the commission we receive from the Store which they can donate to charity if they wish. We designed a Win/Win for everyone involved," Tehan explained.
Retail has also quickly embraced Set That as it delivers new engaged customers directly to their store.
Life is about accumulating more Firsts
And, if being an first-time online entrepreneur isn't enough, Tehan had also recently launched Set That's first digital magazine to showcase the website's range of products and sets that inspire people.
"In my first editorial, I wrote about my surprise to find myself now as a digital magazine editor. That role did not even exist when I left school. I am very keen now to start to pass on what I have learnt to others to enable them to achieve new goals as they transition to a new phase of their lives," concluded Liz.
We can't wait to see what else Tehan has up her entrepreneurial sleeves.