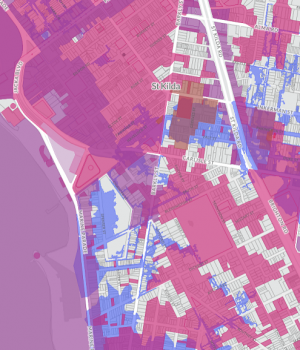 Melbourne based company Landchecker is giving power back to property owners and potential investors in Victoria via an online property tool.
Developed in-house over two years off the back of the government's initiative to foster innovation through open source data, Landchecker is a free tool available to anyone looking to do their due diligence on a property or future investment.
The first move away from the government's land channel service land.vic.gov.au, Landchecker is an intuitive, user friendly, colour coded map that dynamically updates with property planning information such as planning zones, planning overlays, permit activity, bushfire and flood prone areas, cultural heritage sensitive areas, as well as closest schools, council areas and satellite imagery.
What is the story behind Landchecker?
"As a property developer and architect, I was getting frustrated with how clunky and inefficient the tools were when I needed to research development areas," Landchecker Founder Will Leaf said.
"Every time I reviewed a site, I'd be switching between Google Maps satellite view, the Victorian Government website and council websites in an attempt to find the information I needed to assess whether or not the site had development or renovation potential. Landchecker does it all in one place for free," Leaf added.
Leaf, of Ewert Leaf Architects, knew Landchecker would gain traction in the industry quickly and also be hugely attractive to consumers who want to do independent homework on what they're buying. "Industry regulation aside, you only have to turn on the news to see stories of houses effected in flood zones or by heritage overlays, and you wonder, what recourse do they have?
"By giving property professionals and consumers the ability to do their own due diligence and arm themselves with the right information, Landchecker will even the playing field for all parties involved in the property game," Leaf adds.
How exactly does Landchecker work?
The Landchecker platform allows users to freely access PDF property reports on any property in Victoria. These reports provide a concise summary of the planning controls relating to each property as well as directing users to the actual planning schemes and schedules. The reports also include site dimensions and site area, information which users are required to pay $5.50 for on the government website.
"Along with attending open for inspections and speaking to property valuers for the necessary information, consumers need to be aware there's a lot more going on behind the scenes that might not affect them at the time of purchase, but may have an impact later on when they want to renovate or develop."
Landchecker equips consumers with the important information that is often difficult to find and understand in a Section 32, effectively providing more relevant information and allowing them to ask the right questions before making a purchase. Landchecker is available for all Victorian properties and is set to expand to New South Wales and Queensland later this year. Since its launch in February 2017, Landchecker has had over 2,000 sign ups.